TAXONOMIC INVESTIGATION OF EUPLANKTONIC DIATOM COMMUNITIES AS INDICATOR OF COPPER IN THE BANK OF THE SUBARNAREKHA RIVER, GHATSHILA, JHARKHAND, INDIA
Diatom as copper indicator
Keywords:
Diatom, copper, indicator, Ghatshila, HCL, taxonomy, tolerant, new record
Abstract
The aim of this study was to demonstrate and evaluate the diatom communities in the copper infected areas readily associated with the Hindustan Copper Limited (HCL) at the bank of the Subarnarekha River. This study was based on three sampling sites commonly designated as high copper (>100 μg.L-1), medium copper (≤100 μg.L-1) and low copper (≤50 μg.L-1) contaminated area. Results indicated the detailed taxonomic description of 31 species that are dominant or less dominant over these contaminated area. Among the identified taxa, 10 were recorded as new to the Jharkhand state. Water analysis has suggested the presence of 17 species in the high copper contaminated area adjacent to HCL. Nine species was less dominant in the outlet of HCL that belonged to the medium contaminated and only 5 species were dominant over the low copper contaminated area. Physico-chemical parameters like pH, air and water temperature, salinity, conductivity, light extinction coefficient, turbidity, dissolved inorganic salts, dissolved oxygen and carbon-di-oxide, biological oxygen demand and total hardness were also estimated in the copper contaminated sites. Relatively all the species of Cymbella and Navicula were associated with high copper accumulation. Most interestingly, one harmful species Halamphora coffeiformis, which was recorded as most dominant species in high copper exposed area, has shown to be the best copper tolerant and copper indicator species.
Downloads
Download data is not yet available.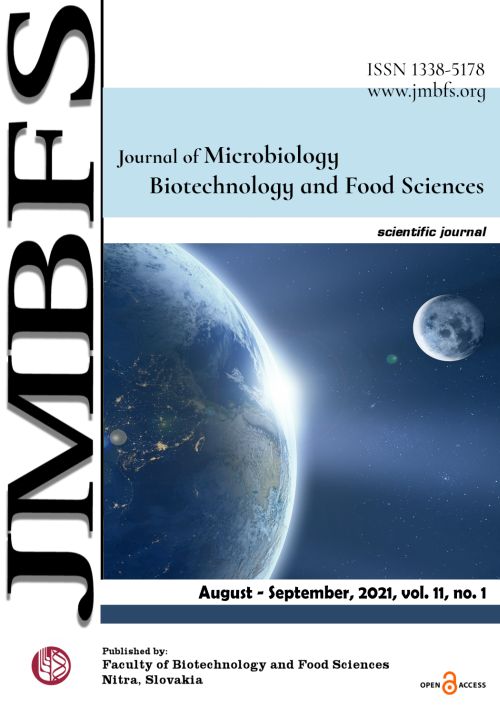 Downloads
How to Cite
SATPATI, G. G., Bose, R., & Pal, R. (2021). TAXONOMIC INVESTIGATION OF EUPLANKTONIC DIATOM COMMUNITIES AS INDICATOR OF COPPER IN THE BANK OF THE SUBARNAREKHA RIVER, GHATSHILA, JHARKHAND, INDIA: Diatom as copper indicator. Journal of Microbiology, Biotechnology and Food Sciences, 11(1), e2827. https://doi.org/10.15414/jmbfs.2827
License
Copyright (c) 2021 GOUR GOPAL SATPATI, Rahul Bose, Ruma Pal
This work is licensed under a Creative Commons Attribution-NoDerivatives 4.0 International License.
Received 2020-03-25
Accepted 2021-03-18
Online Published 2021-08-01