The PROPOLIS: ANTIMICROBIAL ACTIVITY AND CHEMICAL COMPOSITION ANALYSIS
Properties of propolis
Keywords:
Antibacterial effect, Antifungal effect, Bacteria, Flavonoids, Fungus, Polyphenols
Abstract
Over the last few years, propolis has been the object of many studies conducted around the world, and its biological properties and chemical composition have been widely investigated. The present study focuses on the evaluation of the antimicrobial activity as well as an examination of the chemical composition of two samples of propolis from Eastern Algeria coming from the commune of El Mechrouha and Ouled Driss in the wilaya of Souk-Ahras. The two samples are tested for their antimicrobial power by undertaking the agar diffusion technique on eight pathogenic microbial strains (six bacterial strains and two fungal strains) which are: Escherichia coli, Klebsiella pneumonia, Pseudomonas aeruginosa, Staphylococcus aureus, Streptococcus agalactiae, Streptococcus thoraltensis, , , Candida famata and Aspergillus niger. The results obtained clearly show the impact of propolis on the microbial susceptibility of Gram-positive bacteria (S. agalactiae and S. aureus), as well as on fungal species (C. famata and A. niger). The analysis of the chemical composition of the ethanolic extracts of the two propolis by UV-visible absorption spectrometry and thin layer chromatography showed that Algerian propolis is wealthy in phenolic compounds, and high performance liquid chromatography allowed the identification of four polyphenols (Gallic acid, Caffeic acid, Quercetin and Catechin). These outcomes permitted a first assessment of the two propolis which present comparable components in their chemical compositions.
Downloads
Download data is not yet available.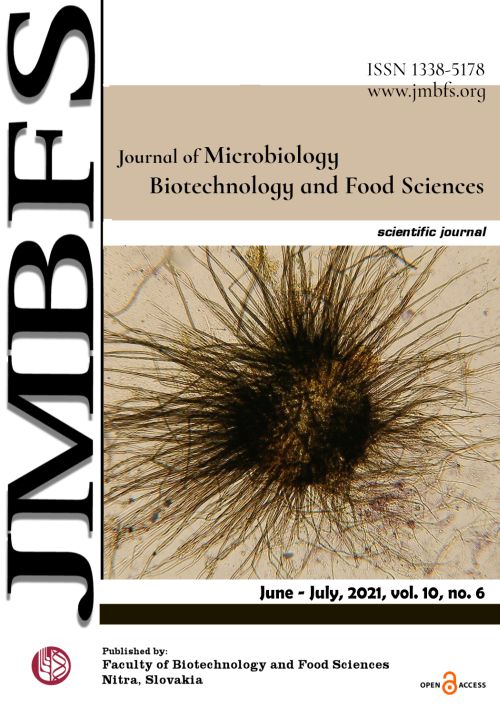 Downloads
How to Cite
BOUZAHOUANE, H., Ayari, A. ., Guehria, I. ., & Riah, O. . (2021). The PROPOLIS: ANTIMICROBIAL ACTIVITY AND CHEMICAL COMPOSITION ANALYSIS: Properties of propolis. Journal of Microbiology, Biotechnology and Food Sciences, 10(6), e3211. https://doi.org/10.15414/jmbfs.3211
License
Copyright (c) 2021 Hana BOUZAHOUANE, Adel Ayari, Ines Guehria, Ouafa Riah
This work is licensed under a Creative Commons Attribution 4.0 International License.
All papers published in the Journal of Microbiology, Biotechnology and Food Sciences  are published under a CC-BY licence (CC-BY 4.0). Published materials can be shared (copy and redistribute the material in any medium or format) and adapted (remix, transform, and build upon the material for any purpose, even commercially) with specifying the author(s).