AFLATOXIGENIC FUNGI AND AFLATOXINS IN LOCALLY PROCESSED PEANUT BUTTER IN LAGOS, NIGERIA
Keywords:
Aflatoxin, peanut butter, Aspergillus flavus, Aspergillus parasiticus
Abstract
Aflatoxin and the producing fungi are known contaminants of farm produce at pre-harvest, post-harvest storage and post-processing. This research was carried out to detect aflatoxigenic fungi and quantify aflatoxins in locally processed peanut butter. Forty-seven samples of peanut butter were purchased from vendors in different markets in Lagos, Nigeria. Fungal species were isolated by pour plate method and identified using cultural and microscopic characteristics. Aflatoxigenic fungi (Aspergillus flavus and A. parasiticus) were isolated from 14/47 (29.79%) samples and they were screened for four aflatoxin genes (aflR, nor-1, ver-1, omt-1). Aflatoxin was quantified in samples with aflatoxigenic fungi using High Performance Liquid Chromatography with Ultra violet detection (HPLC-UV). Only seven (five A. flavus and two A. parasiticus) of the fourteen isolates screened had one or more aflatoxin genes with most isolates having nor-1 gene. Aflatoxin B1 was present in all the peanut butter while aflatoxins B2, G2 and G1 were present in 71.43%, 85.71%, and 57.14% of the samples respectively. The peanut butter samples had total aflatoxin content ranging between 373.6µg/kg – 6741.6µg/kg, which is above the 20µg/kg maximum permissible limit recommended by US FDA and ≤ 4µg/kg by EU. Aflatoxin B1 content was 54.3µg/kg – 805.8µg/kg, and also far above the EU limit of 2µg/kg. The high concentration of aflatoxins and occurrence of aflatoxin B1, the most toxic aflatoxin, in all the peanut butter is of great concern to the health of consumers. Adequate sensitization on preventive measures especially avoidance of mouldy peanut kernels by sorting before use in the production of peanut butter should be encouraged.
Downloads
Download data is not yet available.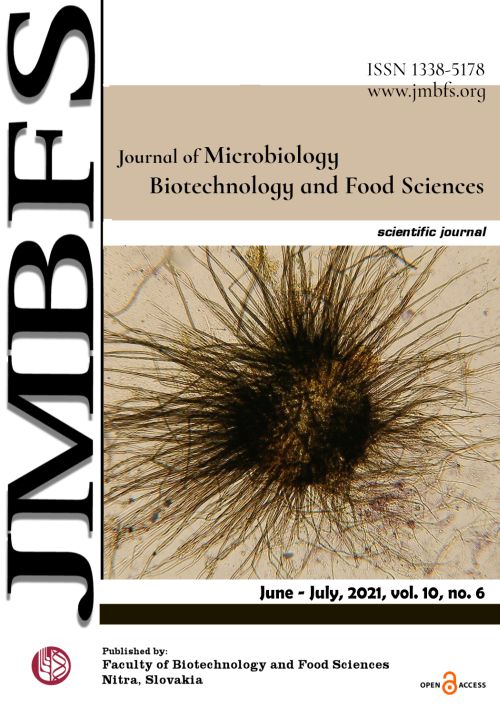 Downloads
How to Cite
Uzeh, R. E., & Adebowale, E. (2021). AFLATOXIGENIC FUNGI AND AFLATOXINS IN LOCALLY PROCESSED PEANUT BUTTER IN LAGOS, NIGERIA. Journal of Microbiology, Biotechnology and Food Sciences, 10(6), e3546. https://doi.org/10.15414/jmbfs.3546
License
Copyright (c) 2021 Journal of microbiology, biotechnology and food sciences
This work is licensed under a Creative Commons Attribution-NoDerivatives 4.0 International License.
Received 2020-08-05
Accepted 2021-01-20
Online Published 2021-06-01