HEMATOLOGICAL AND SEROLOGICAL PARAMETERS FOR DETECTION OF COVID-19
Keywords:
COVID-19, Coronavirus, CRP, SARS-CoV-2, Pandemic Disease
Abstract
Coronavirus disease (COVID-19) appeared as outbreak in 2019 in Wuhan, China. It has been classified as pandemic disease and more severe than predicted; with infections already recorded in a variety of countries. This study aims to confirm the COVID-19 infection through the following tests: hematological, C-reactive protein (CRP). Samples were collected from the infected patients and sent to the National Flu Center (Central Public Health Laboratory) for COVID-19 (positive or negative) diagnosis by the RT-PCR technique. In this study, sixty five of COVID-19 patients and twenty five of healthy control samples male and female were collected in Iraq. There are significant differences in the parameters of the hematological markers for patients in comparing with the control group and no significant differences were observed in Hb when RBC and GRAN percent rise in patients relative to the control group with P=0.0395 and P=0.0354 respectively comparing with the control group. White blood cells (WBC), Lymphocyte (LYM%), Platelets (PIT), monocyte (Mid%), hematocrit (HCT), mean corpuscular volume (MCV), mean corpuscular hemoglobin (MCH), mean platelet volume (MPV), plateletcrit (PCT) was drop dramatically in patients compared to control group. Fifty-one of patients for whom the test was given exhibited a positive (CRP) result. Likewise, the results showed that few patients were negative to CRP test. The Hematological parameters levels (HCT, MCV, MCH, Pelt, WBC, LYM, Mid, MPV, PCT) decreased, but Hb, RBC, GRAN% increased. C-reactive protein test showed a positive result in 85% of patients which can be considered an indicator for predicting severity infection with COVID-19.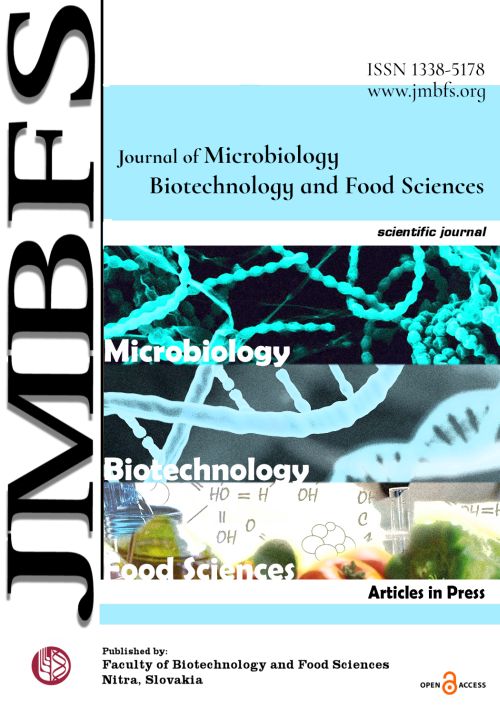 Downloads
How to Cite
Jalil, A. T., Shanshool , M. T. ., Dilfy, S. H. ., Saleh, M. M., & Suleiman, A. A. . (2021). HEMATOLOGICAL AND SEROLOGICAL PARAMETERS FOR DETECTION OF COVID-19. Journal of Microbiology, Biotechnology and Food Sciences, e4229. https://doi.org/10.15414/jmbfs.4229
License
Copyright (c) 2021 Abduladheem Turki Jalil, Mustafa Tareq Shanshool , Saja Hussain Dilfy, Marwan Mahmood Saleh, Ahmed AbdulJabbar Suleiman
This work is licensed under a Creative Commons Attribution-NoDerivatives 4.0 International License.
Received 2021-01-17
Accepted 2021-05-18
Online Published 2021-10-01