CONTAMINANT MICROBIOTA IN CRAFT BEERS
Keywords:
craft beers, wild yeasts, lactic acid bacteria, acetic acid bacteria, alcohol
Abstract
The microbiological stabilization treatment of beer sometimes guarantees the absence of microbiota. These treatments, however, are not usually done in craft beers. In this study, we have analyzed 38 craft beers from the Spanish market and found that, in 68% of cases, exogenous microbiota is present. The samples have been classified based on their alcohol content and the results have shown a large presence of wild yeasts in 100% of the contaminated beers with alcohol by volume (ABV) <5%. When the ABV > 6%, the wild yeasts were only present in 41% of the samples; however, bacterial contaminants were detected in 50% of the samples. We also found that incorporating higher amounts of raw materials results in the presence of contaminant microbiota. These situations may be due to excessive manual operations, the lack of automation during cleaning and, above all, the absence of a stabilization treatment in the finished product.
Downloads
Download data is not yet available.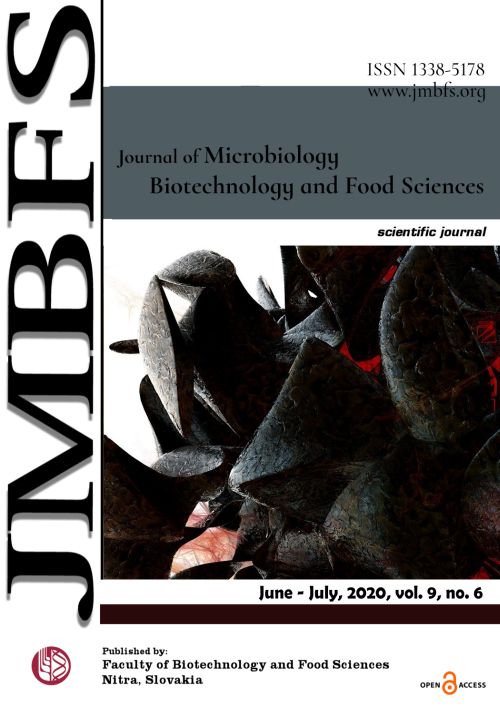 Downloads
How to Cite
López, M. G. ., Roche, E., & Rodríguez, E. . (2021). CONTAMINANT MICROBIOTA IN CRAFT BEERS. Journal of Microbiology, Biotechnology and Food Sciences, 9(6), 1181–1186. https://doi.org/10.15414/jmbfs.2020.9.6.1181-1186
License
Copyright (c) 2020 Marta García López, Elena Roche, Encarnación Rodríguez
This work is licensed under a Creative Commons Attribution 4.0 International License.
All papers published in the Journal of Microbiology, Biotechnology and Food Sciences  are published under a CC-BY licence (CC-BY 4.0). Published materials can be shared (copy and redistribute the material in any medium or format) and adapted (remix, transform, and build upon the material for any purpose, even commercially) with specifying the author(s).