CHARACTERIZATION OF YEASTS ISOLATED FROM DIFFERENT SOURCES AS PROBIOTICS
Keywords:
Probiotics, Yeast, Antibiotic Resistance, Cell Adhesion, Extracellular Polysaccharides
Abstract
Probiotics are living microorganisms which are similar to beneficial microorganisms found in the human gut. These microorganisms can be taken as dietary supplements or as food products provides positive effect to the host. In the present study, soil, milk and curd samples were used as source for the isolation of probiotic yeast. The isolates were checked for the probiotic properties such as antimicrobical production, pH & temperature tolerance, NaCl tolerance, cell adhesion, bile tolerance and cholesterol removal. Initially, twelve yeasts were isolated from each of the three different sources and characterization tests were performed. Among the 12 isolates, M1 showed maximum activity in all characterization tests and the conditions optimized are temperature (350C), pH (3 & 7) and salt tolerance (5% of NaCl) for the growth of the probiotics. It can be used as a major food supplements and also with high nutritive value for human.
Downloads
Download data is not yet available.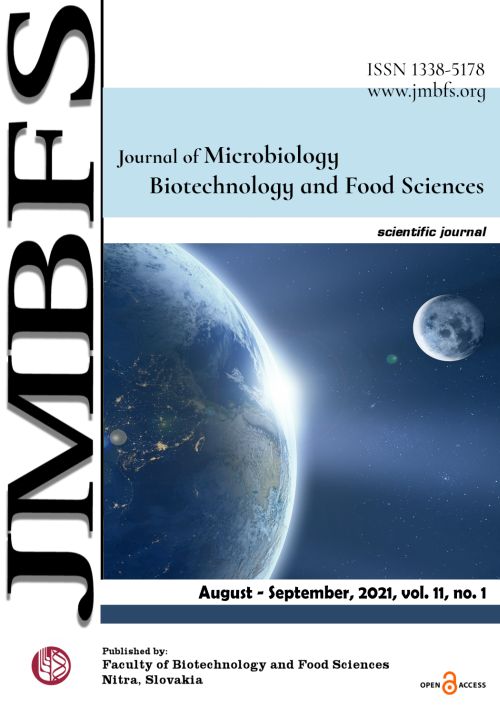 Downloads
How to Cite
Arumugam, N., & Govindharaj, D. (2021). CHARACTERIZATION OF YEASTS ISOLATED FROM DIFFERENT SOURCES AS PROBIOTICS. Journal of Microbiology, Biotechnology and Food Sciences, 11(1), e937. https://doi.org/10.15414/jmbfs.937
License
Copyright (c) 2021 Nandakumar Arumugam, Dhivyadharshini Govindharaj
This work is licensed under a Creative Commons Attribution-NoDerivatives 4.0 International License.
Received 2018-10-30
Accepted 2021-03-03
Online Published 2021-08-01