COMPARATIVE STUDY OF FERMENTATION PROCESSES OF YAK AND COW MILK
Keywords:
yak milk, cow milk, fermentation, rheology, gel strength, lactic acid production
Abstract
Yak milk is a valuable raw material for the production of functional food. Investigation of the fermentation process with commercial starter cultures is conducted to find suitable starters for producing fermented yak milk products on an industrial scale using modern rheological, microbiological, and sensorial methods. According to the acidification curve and rheological measurement, the gel-forming time of yak milk with mesophilic, thermophilic and mixed (meso-thermophilic) starter cultures was not significantly different from cow milk; but, yak milk had a significantly higher gel strength in all cases. The viable bacteria count of fermented samples with thermophilic starters was 8.23 log CFU∙mL-1 for cow milk and 9.12 log CFU∙mL-1 for yak milk. During cold storage (72 h), the CFU in yak milk remained higher (98.48% – 101.22%) during the storage period than that of cow milk (90.33% – 95.06%). The sensorial property scores of yak milk fermented with mixed starters were the highest, followed by those of milk fermented with mesophilic and thermophilic starter cultures. The obtained parameters show that mesophilic and mixed cultures are advantageous in terms of sensorial and probiotic properties, and thermophilic culture - in terms of gel strength. All this information is useful for the development of new dairy products.
Downloads
Download data is not yet available.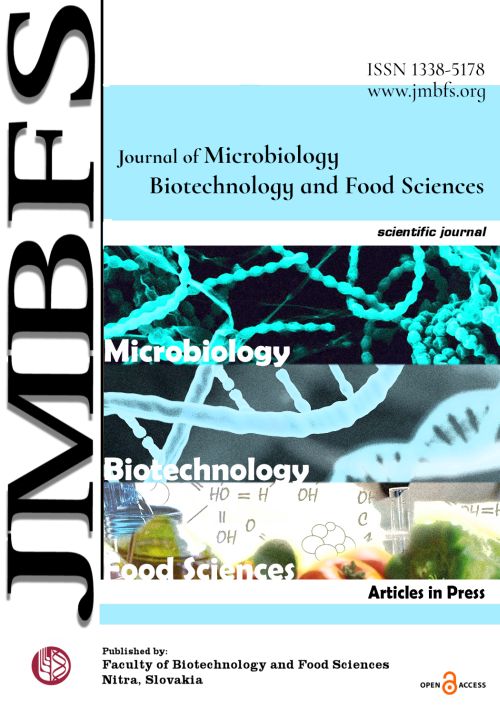 Downloads
How to Cite
Usubalieva, A., Musulmanova , M., Elemanova, R., Ozbekova, Z., & SMANALİEVA, J. (2023). COMPARATIVE STUDY OF FERMENTATION PROCESSES OF YAK AND COW MILK. Journal of Microbiology, Biotechnology and Food Sciences, e10024. https://doi.org/10.55251/jmbfs.10024
License
Copyright (c) 2023 Aigul Usubalieva, Mukarama Musulmanova , Rimma Elemanova, Zhyldyzai Ozbekova, Jamila SMANALİEVA
This work is licensed under a Creative Commons Attribution 4.0 International License.
All papers published in the Journal of Microbiology, Biotechnology and Food Sciences  are published under a CC-BY licence (CC-BY 4.0). Published materials can be shared (copy and redistribute the material in any medium or format) and adapted (remix, transform, and build upon the material for any purpose, even commercially) with specifying the author(s).