ANTIMICROBIAL ACTIVITY OF CHITOSAN-VITAMIN E-NANOEMULSION
Keywords:
Minimum inhibitory concentration, Staphylococcus aureus, Candida krusei, Enterobacter hormaechei, Polysaccharide
Abstract
Chitosan is considered one of the most abundant polysaccharide in the world. Therefore, it has several applications in the food and pharmaceutical industries. However, the structure of chitosan may limit its solubility and bioavailability. The current study aimed to improve the physicochemical properties of chitosan by combining it with vitamin E nanoemulsion (CH-NE-vitE). The structural, thermal stability, and physical differences between chitosan and its new derivative were analyzed using the scanning electron microscope (SEM), Fourier transform infrared (FTIR) spectroscopy, nuclear magnetic resonance (NMR) spectroscopy, and differential scanning calorimetry (DSC). Furthermore, the antimicrobial activities of CH-NE-vitE against Staphylococcus aureus, Candida krusei and Enterobacter hormaechei were examined using disc and well diffusion methods in addition to the determination of the minimum inhibitory concentration (MIC). The morphology changes in the treated microbes were visualized using the SEM. The characterization of CH-NE-vitE exhibited noticeable changes in the chitosan physical properties and chemical structure including increased solubility, interaction rates, and stability. The new derivative has inhibited the growth of both S. aureus, and C. krusei while promoting the growth of E. hormaechei. The minimum inhibitory concentrations against the S. aureus, and C. krusei were 1.563 mg/mL and 3.125 mg/mL, respectively. The produced CH-NE-vitE can be used in drug delivery, dermal products, and food packaging.
Downloads
Download data is not yet available.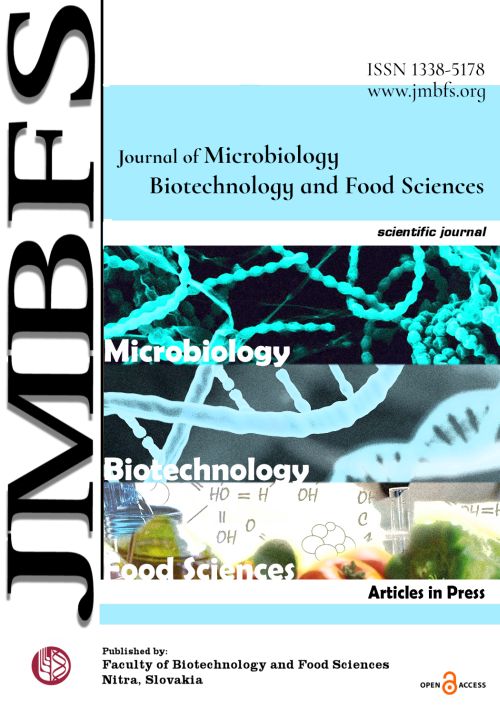 Downloads
How to Cite
Alkhatib, M., ALHusini, F., Al-Amri, M., ALHatmi, A., ALRiyami, K., & ALGhafri , M. (2023). ANTIMICROBIAL ACTIVITY OF CHITOSAN-VITAMIN E-NANOEMULSION. Journal of Microbiology, Biotechnology and Food Sciences, e10123. https://doi.org/10.55251/jmbfs.10123
License
Copyright (c) 2022 Mayson Alkhatib, Fatima ALHusini, Maryam Al-Amri, Abdullah ALHatmi, Khamis ALRiyami, Mallak ALGhafri
This work is licensed under a Creative Commons Attribution 4.0 International License.
All papers published in the Journal of Microbiology, Biotechnology and Food Sciences  are published under a CC-BY licence (CC-BY 4.0). Published materials can be shared (copy and redistribute the material in any medium or format) and adapted (remix, transform, and build upon the material for any purpose, even commercially) with specifying the author(s).