INVESTIGATING THE RELATIONSHIP BETWEEN SOME VIRULENCE AND ANTIBIOTICS RESISTANCE GENES OF SOME LOCAL PATHOGENIC BACTERIA IN IRAQ
Keywords:
biofilm, beta-lactamase, Iss gene
Abstract
Since the potential link between virulence genes and bacterial antibiotic resistance is of great importance in medical aspects, the properties of such a link were thoroughly investigated in this work. Sixty bacterial isolates were collected from patients with urinary tract infection (UTI) who visited the medical lab at the College of Science/the University of Al-Kufa. Preservation and sub-culture of these isolates were performed according to the guidelines of microorganism's care and the Research Committee of Al-Qasim Green University. Several phenotypic tests were performed involving hemolysis, haemagglutination, serum resistance, and biofilm formation. Genotypic analysis of virulence genes (biofilm and Iss) and antibiotics resistance genes (blaAmpC, blaTEM, blaSHV-5, and blaCTX-M) were measured using the polymerase chain reaction (PCR) technique. All isolates of P. mirabillis were extracted as positive for the serum resistance test with 100%, while a percentage of than less 14% was observed with isolates of Pseudomonas aeruginosa. From the acquired results of the biofilm formation test, it was revealed that all bacterial isolates exhibited negative results except in isolates of E. coli, Proteus mirabillis, and Enterococcus faecalis. As far as the genetic study is concerned, the biofilm gene was abundant and was also found in 95% of bacterial isolates followed by an increase in the serum survival (Iss) gene by 86.66%. Interestingly, the genotype study of antibiotic resistance genes showed that both blaAmpC and blaTEM had significantly greater prevalence in all isolates compared to blaSHV-5 and blaCTX-M at P≤ 0.05. In addition, the percentages of the prevalence of blaAmpC and blaTEM were significantly higher (93.33 and 71.66), respectively, compared to the respective values found in blaSHV-5 and blaCTX-M (20%, 46.66%). From the correlation findings, a significant constructive association between virulence and resistance to antibiotic profile was found (r=0.957, P=0.000). In conclusion, our work provides valuable insights for better understanding the potential link between genotypic (virulence genes) and phenotypic traits (antibiotic resistance). Future research holds the potential to deepen our comprehension of the intricate relationship between virulence genes and antibiotic resistance, thereby making substantial contributions to the development of more efficacious approaches for the management of bacterial infections. This recommendation extends to fellow researchers in the field.
Downloads
Download data is not yet available.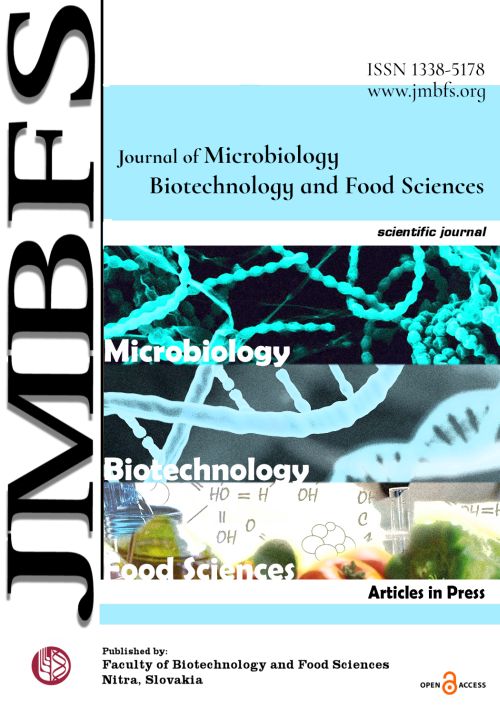 Downloads
How to Cite
Kadhim, M. J., Al-Janab, H. S. O., Hasson, S. O., & Abbas, Z. M. (2023). INVESTIGATING THE RELATIONSHIP BETWEEN SOME VIRULENCE AND ANTIBIOTICS RESISTANCE GENES OF SOME LOCAL PATHOGENIC BACTERIA IN IRAQ. Journal of Microbiology, Biotechnology and Food Sciences, e10139. https://doi.org/10.55251/jmbfs.10139
License
Copyright (c) 2023 Mohanad Jawad Kadhim, Hayder Shkhair Obayes Al-Janab, Shaimaa Obaid Hasson, Zahraa Mudhafar Abbas
This work is licensed under a Creative Commons Attribution 4.0 International License.
All papers published in the Journal of Microbiology, Biotechnology and Food Sciences  are published under a CC-BY licence (CC-BY 4.0). Published materials can be shared (copy and redistribute the material in any medium or format) and adapted (remix, transform, and build upon the material for any purpose, even commercially) with specifying the author(s).