EFFECTS OF MICROWAVE ROASTING TIME ON PHYSICO-CHEMICAL PROPERTIES AND SENSORY EVALUATION OF GERMINATED RED BROWN RICE MILK
EFFECTS OF MICROWAVE ROASTING TIME ON GERMINATED RED BROWN RICE MILK
Keywords:
Microwave heating time, germinated brown rice milk, rice physico-chemical property, market survey, sensory evaluation.
Abstract
The study was aimed to investigate the effects of different microwave heating times (1, 2, and 3 min at output microwave of 800 W) in comparison with the traditional heating (3 min, 110oC) on some physico-chemical properties and sensory evaluation. The consumer survey for the final product use was also conducted to determine whether there is a significant difference in general liking of the product with gender. The results indicated that the product with the shorter microwave heating time contained higher protein and reducing sugar compared to traditional heating. The microwave heating time significantly affected the viscosity of milk, whereas insignificantly influenced color, pH, and TSS values of milk. Among samples, microwave roasted at 3 min provided the comparable total acceptance score in sensory evaluation of the traditional heating. The milk contains protein (0.18g/100ml), total lipid (0.87g/100ml), and carbohydrate (7.56g/100ml). No significant association between gender and opinion was found expressing the liking of the product in which there were 61.35% females and 45.58% males liking the product. This study revealed that microwave heating could be used for roasting step to replace the traditional roasting in terms of product quality and nutrient retention. The study also provided a basic formula of the main components of the rice milk and demonstrated that the using the germinated red-brown rice to produce the rice milk could provide the product, ensuring all main compositions of rice such as protein, lipid, and carbohydrate.
Downloads
Download data is not yet available.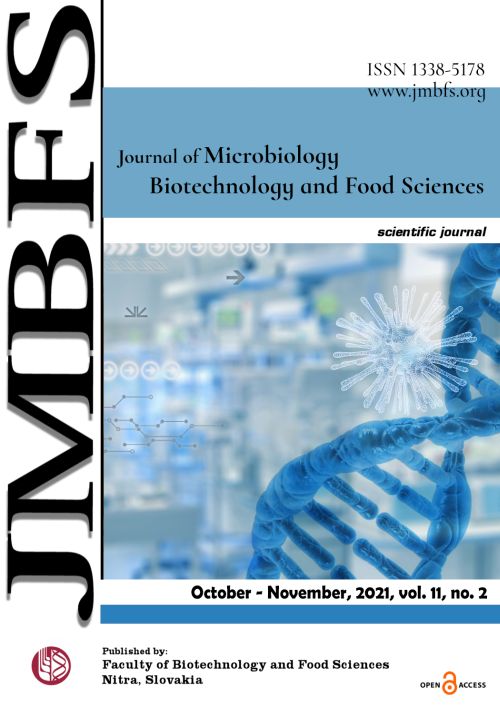 Downloads
How to Cite
Le, T. Q., & Quoc Le, N. . (2021). EFFECTS OF MICROWAVE ROASTING TIME ON PHYSICO-CHEMICAL PROPERTIES AND SENSORY EVALUATION OF GERMINATED RED BROWN RICE MILK: EFFECTS OF MICROWAVE ROASTING TIME ON GERMINATED RED BROWN RICE MILK. Journal of Microbiology, Biotechnology and Food Sciences, 11(2), e1306. https://doi.org/10.15414/jmbfs.1306
License
Copyright (c) 2021 Tuan Quoc Le, Nhat Quoc Le
This work is licensed under a Creative Commons Attribution 4.0 International License.
All papers published in the Journal of Microbiology, Biotechnology and Food Sciences  are published under a CC-BY licence (CC-BY 4.0). Published materials can be shared (copy and redistribute the material in any medium or format) and adapted (remix, transform, and build upon the material for any purpose, even commercially) with specifying the author(s).