ASSESSMENT OF CELLULASE COMPLEX SECRETORY CAPACITY OF TRICHODERMA STRAINS AND MORPHOLOGICAL AND MOLECULAR IDENTIFICATION OF THE ISOLATE WITH THE HIGHEST ENZYMATIC SECRETION CAPACITY
Cellulase complex secretory capacity of Trichoderma strains
Keywords:
Trichoderma spp., cellulase activity, morphological characters, ribosomal DNA, Trichoderma koningiopsis
Abstract
The bioconversion of lignocellulosic biomass into monomeric sugars is a key economic difficulty hindering the profitable use of plant biomass as energy. The production of cellulase is a main factor in the cellulose hydrolysis. Among the main cellulase producers are the filamentous fungi. Therefore, many efforts have been made in obtaining new microorganisms with high cellulase secretion capacity. The cellulase secretory capacity of 28 isolates of Trichoderma was qualitatively and quantitatively evaluated. The detection of cellulolytic fungi was correlated with both Congo red and the dinitrosalicylic acid reagent methods. Based on qualitatively assays, sixteen of the isolates revealed carboxymethyl cellulose degradation ability, where the Trichoderma POS7 isolate showed the highest increase in filter paper activity, endo-1,4-β-glucanases and β-glucosidases activities (p<0.05) in a short incubation time. This isolate was molecularly identified as Trichoderma koningiopsis, based on internal transcribed spacer sequences. Our results provide new information and reveal new microorganism in the hydrolysis of cellulose material. The phylogenetic analysis revealed close positioning of T. koningiopsis clade with T. viride, T. viridescens and T. petersenii clades in a closely related group, in concordance with the current taxonomic classification of Trichoderma genus.
Downloads
Download data is not yet available.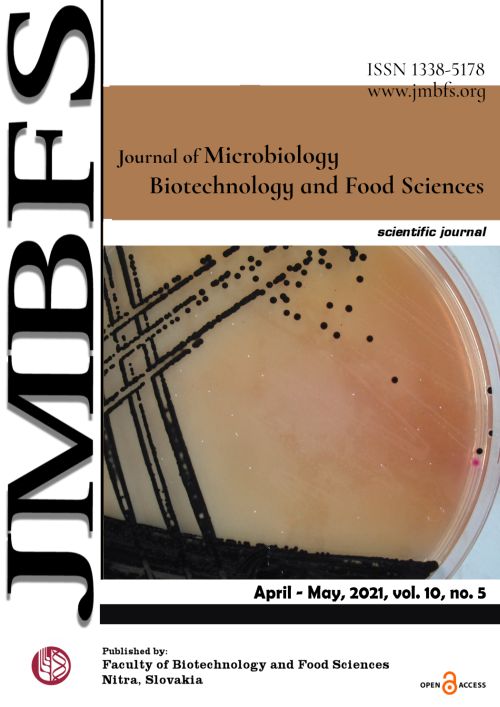 Downloads
How to Cite
Castrillo, M. L., Bich, G. Ángel, Amerio, N. S., Rodriguez, M. D., Zapata, P. D., & Villalba, L. L. (2021). ASSESSMENT OF CELLULASE COMPLEX SECRETORY CAPACITY OF TRICHODERMA STRAINS AND MORPHOLOGICAL AND MOLECULAR IDENTIFICATION OF THE ISOLATE WITH THE HIGHEST ENZYMATIC SECRETION CAPACITY: Cellulase complex secretory capacity of Trichoderma strains. Journal of Microbiology, Biotechnology and Food Sciences, 10(5), e1357. https://doi.org/10.15414/jmbfs.1357
License
Copyright (c) 2021 Maria Lorena Castrillo, Gustavo Ángel Bich, Dr., Natalia Soledad Amerio, Lic., Maria Daniela Rodriguez, Dr., Pedro Dario Zapata, Dr., Laura Lidia Villalba, Dr.
This work is licensed under a Creative Commons Attribution 4.0 International License.
All papers published in the Journal of Microbiology, Biotechnology and Food Sciences  are published under a CC-BY licence (CC-BY 4.0). Published materials can be shared (copy and redistribute the material in any medium or format) and adapted (remix, transform, and build upon the material for any purpose, even commercially) with specifying the author(s).