INVESTIGATION OF THE POTENTIAL UTILIZATIONS OF HUMAN MILK ORIGINATED Lactobacillus gasseri STRAINS IN AQUACULTURE AND SEAFOOD PRODUCTION
INVESTIGATION OF USAGE POTENTIALS OF LACTOBACILLUS GASSERI STRAINS IN AQUACULTURE AND SEAFOOD
Keywords:
Alpha-amylase, Antibiotic, Antimicrobial, Fish pathogen, Sodium benzoate
Abstract
In the current study, five Lactobacillus gasseri MA strains from human breast milk were investigated for their usage potentials in aquaculture and seafood products as probiotic and bio-protective. The strains were tested for their susceptibilities to various clinical antibiotics used in fish cultivation, antimicrobial activities against seven fish pathogens, alpha-amylase enzyme activities, and susceptibilities to sodium benzoate which used as a food preservative. The strains were susceptible to Ampicillin, Amoxicillin and Erythromycin antibiotics. Antimicrobial activity test results indicated that the inhibition zone diameters were ranged between 1.66 mm and 11.22 mm against various pathogens originated fish. The highest antimicrobial activity was recorded against the Aeromonas hydrophila ATCC 19570 (11.22 mm) for the MA-2 strain, while the lowest antimicrobial activity was determined against Vibrio anguillarum A4 (1.66 mm) for the MA-6 strain. L. gasseri MA-5, MA-3 and MA-6 showed alpha-amylase activity. The spectrophotometric and live-cell count data showed that all the strains exhibited resistance to sodium benzoate. The results suggest that L. gasseri MA strains could be good sources of probiotic for aquaculture and bio-protectives in seafood products.
Downloads
Download data is not yet available.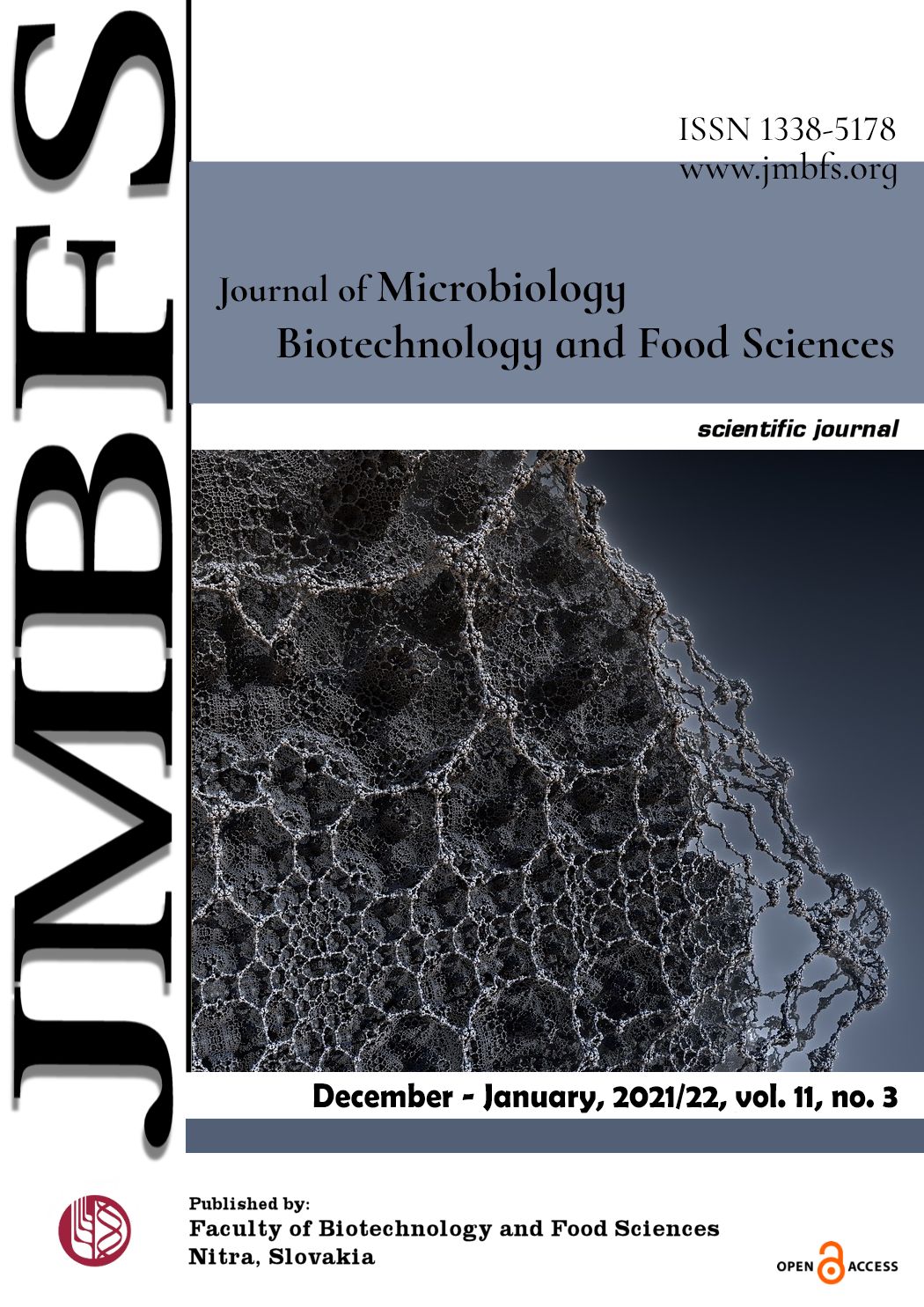 Downloads
How to Cite
Gunyakti, A., & Ozusaglam, M. A. (2021). INVESTIGATION OF THE POTENTIAL UTILIZATIONS OF HUMAN MILK ORIGINATED Lactobacillus gasseri STRAINS IN AQUACULTURE AND SEAFOOD PRODUCTION: INVESTIGATION OF USAGE POTENTIALS OF LACTOBACILLUS GASSERI STRAINS IN AQUACULTURE AND SEAFOOD. Journal of Microbiology, Biotechnology and Food Sciences, 11(3), e1626. https://doi.org/10.15414/jmbfs.1626
License
Copyright (c) 2021 Ayse Gunyakti, Meltem Asan Ozusaglam
This work is licensed under a Creative Commons Attribution 4.0 International License.
All papers published in the Journal of Microbiology, Biotechnology and Food Sciences  are published under a CC-BY licence (CC-BY 4.0). Published materials can be shared (copy and redistribute the material in any medium or format) and adapted (remix, transform, and build upon the material for any purpose, even commercially) with specifying the author(s).
Received 2019-05-03
Accepted 2021-08-12
Online Published 2021-12-01