A A NEW SIMPLE METHOD TO PRESERVE PHAGE - PRELIMINARY STUDY
PRELIMINARY STUDY
Keywords:
phage preservation, alginate, encapsulation of host infected with phage (EHIP), normal refrigeration
Abstract
The host E. coli and its phage were isolated from sewage water. The phage infected host, E coli cells were encapsulated in alginate at specific time interval of co-cultivation, beads were stored at different temperatures. Beads were solublised to release phages and stability of released phages was evaluated by performing plaque assay at monthly interval. The number of plaque forming units increased with time of co-cultivation and by 45mins of phage-host co-cultivation, count raised from 106 to 108 pfu/ml. The infected host cells were entrapped in calcium alginate at a stage when multiple copies of mature phage are ready within host cell, and well before commencement of cell lysis.
Downloads
Download data is not yet available.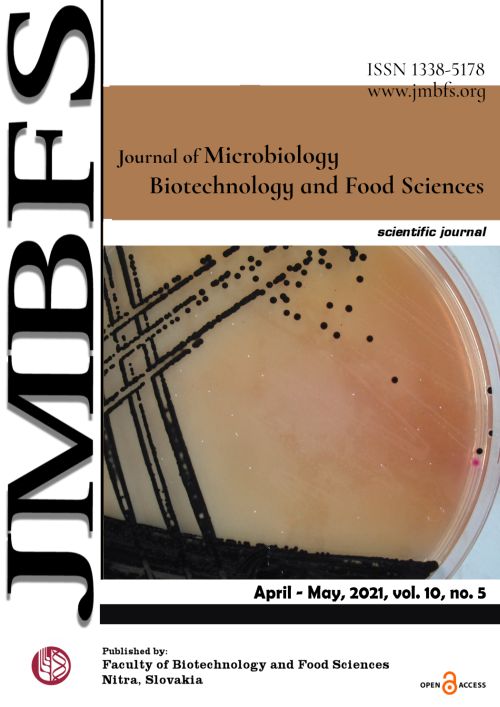 Downloads
How to Cite
JAPE, A. A. (2021). A A NEW SIMPLE METHOD TO PRESERVE PHAGE - PRELIMINARY STUDY: PRELIMINARY STUDY. Journal of Microbiology, Biotechnology and Food Sciences, 10(5), e1710. https://doi.org/10.15414/jmbfs.1710
License
Copyright (c) 2021 ANURADHA ATUL JAPE
This work is licensed under a Creative Commons Attribution 4.0 International License.
All papers published in the Journal of Microbiology, Biotechnology and Food Sciences  are published under a CC-BY licence (CC-BY 4.0). Published materials can be shared (copy and redistribute the material in any medium or format) and adapted (remix, transform, and build upon the material for any purpose, even commercially) with specifying the author(s).