THE EXPRESSION OF SELECTED DROUGHT RESPONSIVE GENES OF MAIZE IS INFLUENCED BY ENDOPHYTIC BACTERIAL INOCULATION
Keywords:
Bacillus, Dehydrin, abiotic stress, RT-PCR
Abstract
Plants respond to abiotic stresses through a series of molecular, cellular and physiological changes. These responses are further influenced by the interactions between host plant and the associated rhizospheric and endophytic microorganisms. The endophytic microorganisms, due to their intimate proximity with the host plant, are considered to have major influence on plant's physiological responses. In the present study, three drought tolerant and plant growth promoting maize seed endophytic bacteria, Bacillus sp. MSEB 17, Bacillus sp. MSEB 72 and Bacillus sp. MSEB 78 were used as seed inoculants in maize (var Bioseed 9681) under drought stress conditions in a growth chamber pot study and their influence on four drought responsive genes (Zmdhn1, GRMZM2G055844, GRMZM2G467339 and GRMZM2G109448) in maize leaves was studied by real time PCR using specific primers. The influence of inoculation on host plant's response to drought was evident from altered expression of target genes when compared with uninoculated plants. Notably, inoculation with MSEB 17 increased the expression of three target genes, Zmdhn1 (dehydrin) gene, GRMZM2G467339 gene and GRMZM2G109448 gene by several folds.  This study revealed the role of endophytic in alleviating the effect of drought stress in maize plants through regulating plant growth and physiological response.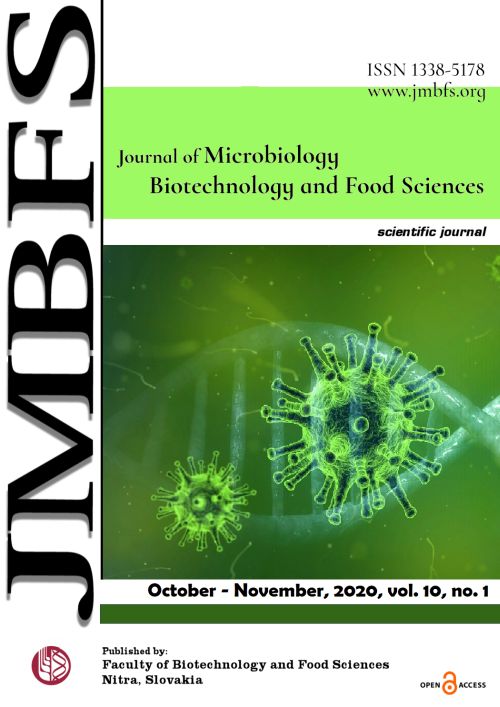 Downloads
License
Copyright (c) 2020 Journal of microbiology, biotechnology and food sciences
This work is licensed under a Creative Commons Attribution-NoDerivatives 4.0 International License.