ETHANOL EXTRACT OF Basella alba Linn MODULATES ACRYLAMIDE-INDUCED OXIDATIVE STRESS IN WISTAR RATS
Keywords:
Acrylamide, oxidative stress, Basella alba, antioxidants
Abstract
Acrylamide (AA), a common toxicant in processed foods is associated with cancer development via induction of oxidative stress. Therefore, the need for a potent antioxidant substance or compound that could ameliorate this toxic effect. Basella alba has been reported to have medicinal properties, and in this study, the anti-oxidative potentials of ethanol leaf extract of Basella alba (ELEBa) were assessed against oxidative stress induced by acrylamide in male Wistar rats (120-150g). Twenty (20) animals were grouped into four. Group 1: 1 ml/kg body weight (bwt.) distilled water (control), Group 2: 17.5 mg/kg bwt AA, Group 3: 17.5 mg/kg bwt AA+100 mg/kg bwt ELEBa, Group 4: 17.5 mg/kg bwt AA + 250 mg/kg bwt ELEBa. Treatment of animals was done orally and once daily for 14 days before sacrifice. The liver and kidney tissues were processed for the analyses of antioxidant activities. Serum was analyzed for hepatic and renal function bio markers in the treated animals. The plant's bio active constituents were characterized by GC-MS. Acrylamide caused a significant (p < 0.05) ameliorated these values. GC/MS analysis revealed the presence of pentadecanoic acid, n‐hexadecanoic acid, cis‐13-octadecenoic acid, cis-vaccenic acid, oleic acid and octadecanoic acid.  Our findings suggest that, ELEBa is a potential chemopreventive agent against acrylamide-induced oxidative stress in wistar rats.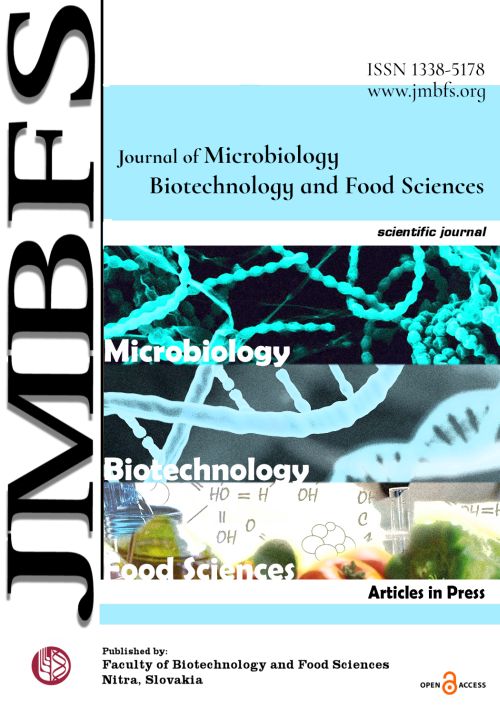 Downloads
How to Cite
Adewale, O. O., Samuel, E., Gbadegesin, M., Owumi, S., & Odunola, O. (2021). ETHANOL EXTRACT OF Basella alba Linn MODULATES ACRYLAMIDE-INDUCED OXIDATIVE STRESS IN WISTAR RATS. Journal of Microbiology, Biotechnology and Food Sciences, e1837. https://doi.org/10.15414/jmbfs.1837
License
Copyright (c) 2021 Omowumi Oyeronke Adewale, Ekundayo Samuel, Michael Gbadegesin, Solomon Owumi, Oyeronke Odunola
This work is licensed under a Creative Commons Attribution-NoDerivatives 4.0 International License.
Received 2019-06-19
Accepted 2020-02-03
Online Published 2021-10-22