SUNN HEMP (CROTALARIA JUNCEA) NODULATING BACTERIA CAPABLE FOR HIGH ANTAGONISTIC POTENTIAL AND PLANT GROWTH PROMOTION ATTRIBUTES
Sun hemp nodulating rhizobia
Keywords:
Sun-hemp, rhizobia, antagonism, plant growth promotion, 16S rRNA gene
Abstract
Rhizobia and plant legumes have been potentially associated by an essential process symbiosis for biological nitrogen fixation (BNF). However, compatibility and responsible factors for symbiosis are poorly understood. The present study revealed the 55 indigenous rhizobacterial isolates from root nodules of Crotalaria juncea from three different agricultural regions/locations in North-east Indo Gangetic Plains (NE-IGP) Uttar Pradesh and Uttarakhand. Amongst them, strain NCR5, was screened as a resilient antagonistic isolate against Macrophomina phaseolina. Based on 16S rRNA gene sequencing, it was identified as Rhizobium leguminosarum. Amplification of Nod gene proved it to be a nodulating strain. Phenotypically, NCR5 grew well within the temperature range 10-40 ºC and pH 5.5-9.0 as well as survived with 3.0% salt stress. Plant growth promotion characteristics were confirmed it as the best-performing PGP strain. The characteristics included phosphate solubilization, IAA production, siderophore production, HCN productions.
This study underwrote the Rhizobium leguminosarum NCR5 as a potential applicant for bioformulation to apply in the soil for promoting the PGP traits and. It can also be employed as fungicides against Macrophomina phaseolina in adverse soil types and environments.
Downloads
Download data is not yet available.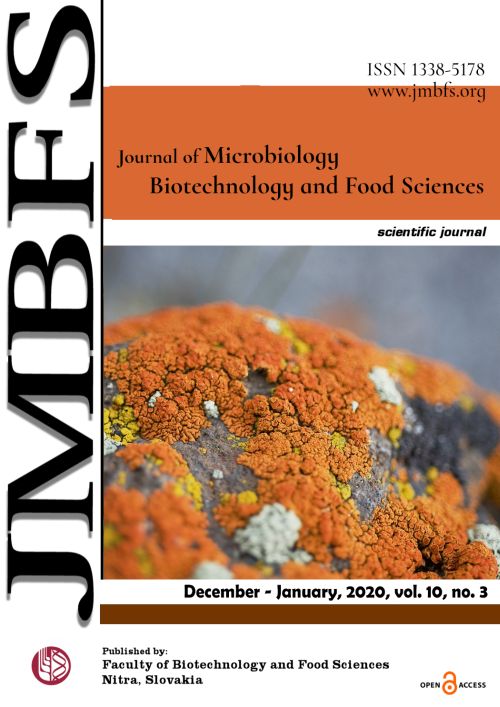 Downloads
How to Cite
Maheshwari, N. K., Singh, R. P., Manchanda, G., Dubey, R. C., & Maheshwari, D. K. (2020). SUNN HEMP (CROTALARIA JUNCEA) NODULATING BACTERIA CAPABLE FOR HIGH ANTAGONISTIC POTENTIAL AND PLANT GROWTH PROMOTION ATTRIBUTES: Sun hemp nodulating rhizobia. Journal of Microbiology, Biotechnology and Food Sciences, 10(3), 385–389. https://doi.org/10.15414/jmbfs.2020.10.3.385-389
License
Copyright (c) 2020 Journal of microbiology, biotechnology and food sciences
This work is licensed under a Creative Commons Attribution-NoDerivatives 4.0 International License.
Received 2019-08-09
Accepted 2020-07-10
Online Published 2020-12-01