EVALUATING THE VOLATILE COMPOUNDS DURING ALCOHOLIC FERMENTATION OF DIFFERENT SACCHAROMYCES CEREVISIAE STRAINS IN MIXED JUICES OF CASHEW APPLE AND LONGAN
Keywords:
Saccharomyces cerevisiae, cashew apple, longan, odor activity values, aroma
Abstract
The purpose of this research was to evaluate the microbiological, chemical, and volatile compounds of mixed juices comprised of cashew apple and longan fermented with two yeast strains of Saccharomyces cerevisiae (C12 and EC1118). The two fermentations in the mixed juices were similar physicochemical parameters (the growth of yeast, pH, total acidity, total soluble solids, and total sugar). The most abundant of the volatile compounds in these wines were ethyl acetate, ethyl hexanoate, ethyl octanoate, ethyl decanoate, isoamyl acetate, ethanol, isobutanol, isoamyl alcohol, 2-phenylethanol, β-ocimene, and acetic acid. Seven volatile compounds in the wines had odor activity values (OAVs) higher than 1, and also were selected and quantified (ethyl octanoate, ethyl hexanoate, ethyl decanoate, isoamyl acetate, isoamyl alcohol, 2-phenylethanol, and linalool). Ethyl octanoate (fruity, floral, and pineapple) had the highest OAVs in both of the mixed juices fermented with the yeast strains C12 and EC1118. The S. cerevisiae strain EC1118 can significantly produce the highest total volatile contents (359.23 mg/L), and we also found a higher level of total ester (95.50 mg/L) in the wines. Additionally, the S. cerevisiae strain EC1118 can provide a higher content of fruity aroma in wines, as indicated by the calculation of OAVs. The sensory analysis of the wines was acceptable to all the panelists, who gave color, clarity, taste, flavor, and overall acceptance scores as "like slightly" to "like moderately."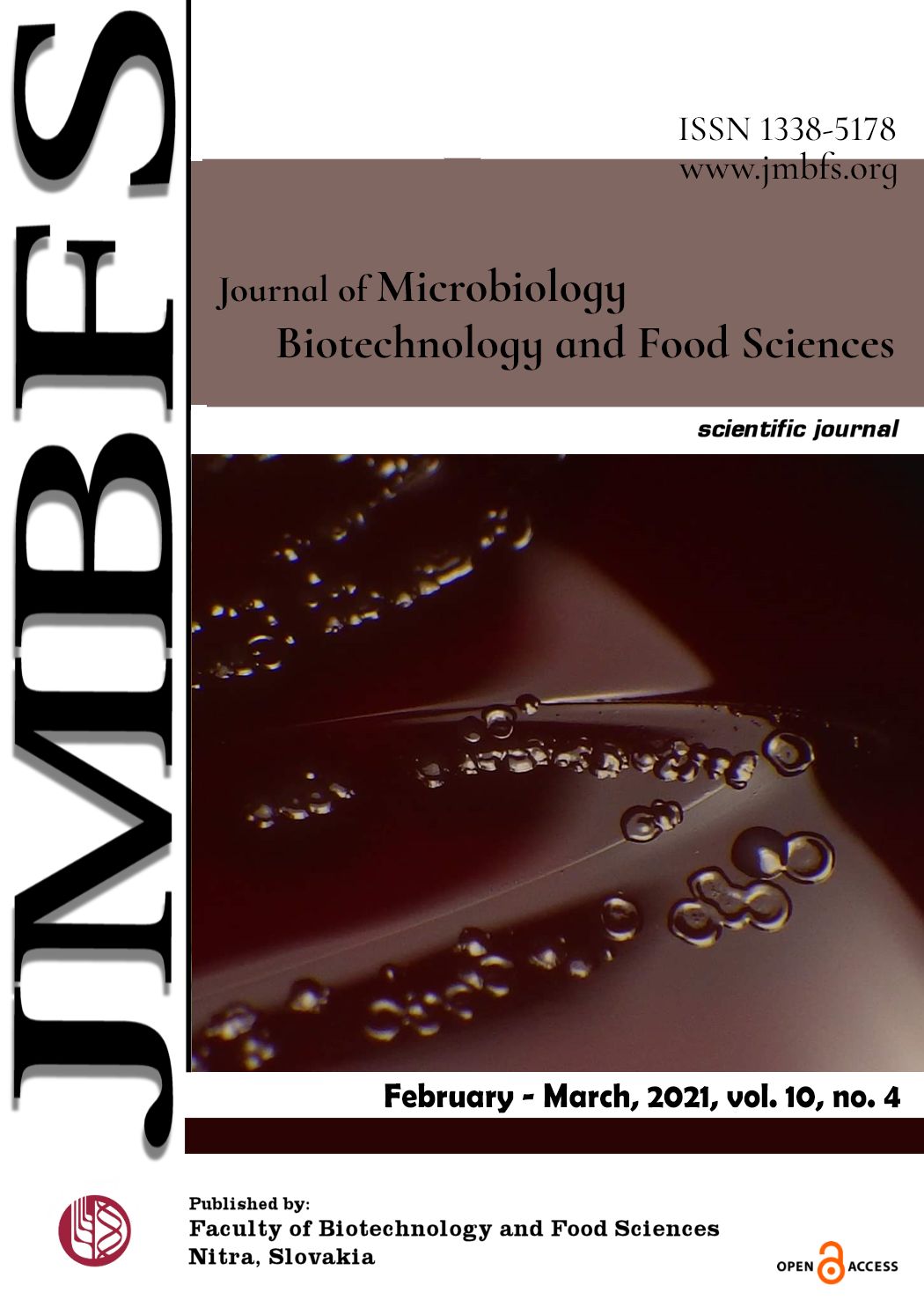 Downloads
License
Copyright (c) 2021 Journal of microbiology, biotechnology and food sciences
This work is licensed under a Creative Commons Attribution-NoDerivatives 4.0 International License.