EFFICIENCY OF DIFFERENT BIOINFORMATICS TOOLS IN METABOLITE PROFILING OF WHOLE COW'S MILK USING SYNTHETICALLY WATER-REMOVED 1H NMR SPECTRA: A COMPARATIVE STUDY
Keywords:
Whole cow's milk, Water removal, Bioinformatics, Metabolomics
Abstract
Large water peak obscures the signals corresponding to important metabolites, and thus hinders in obtaining complete information from samples. This study investigates the efficiency of three bioinformatics tools (Galaxy, Chenomx, and MetaboHunter) on the synthetically water-removed NMR spectra of whole cow's milk and compares the results obtained. Three samples of whole cow's milk were collected from Oran region (Algeria) and kept at –18 ºC until analysis. 1H NMR spectra of the samples in DMSO d6 were recorded at ambient temperature without any pretreatment or purification, and the spectra were first processed with MestreNova to remove water and solvent artificially, followed by metabolite profiling using the above mentioned three bioinformatics tools. Detection of several metabolites, such as taurine, glycine, choline, threitol, niacinamide, and 1,3- dimethylurate, etc., was possible using the bioinformatics tools post water and solvent removal. In addition, dry content matter estimation revealed M3 as the richest milk among the three test samples. Although the bioinformatics tools identified many milk metabolites, there are differences in the detection efficiency probably because of the separate algorithm and different file format used by them.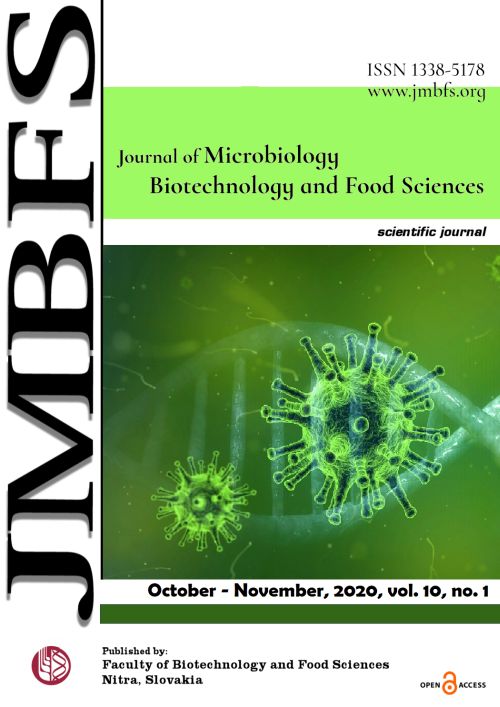 Downloads
License
Copyright (c) 2020 Journal of microbiology, biotechnology and food sciences
This work is licensed under a Creative Commons Attribution-NoDerivatives 4.0 International License.