LIPASES: AN EFFICIENT BIOCATALYST FOR BIOTECHNOLOGICAL APPLICATIONS
Keywords:
Lipases, organic solvent tolerance, immobilization, industrial applications
Abstract
Lipases (3.1.1.3) are ubiquitous, biogenic enzymes which hydrolyses the triacylglycerols at the water-oil interface. Many species of animals, plants, and microbes produces lipases. The organisms able to produce lipases which could tolerate organic solvents, high temperature, is of industrial interest. Apart from its natural aqueous catalysis it also performs synthetic reactions in non-aqueous conditions, which have undergone tremendous development in last decade and have become a part of growing biotechnological applications. Immobilization of lipases on the particulate carriers have also been widely used for the enzyme's efficient use. Vast industrial applications have been established such as detergent formulations, oleochemical, nutrition, textile, agrochemical industry, food technology, pharmaceutical field and fine chemical processing. Except latter three, most commercial applications do not requisite excessive purification or high degree of purity.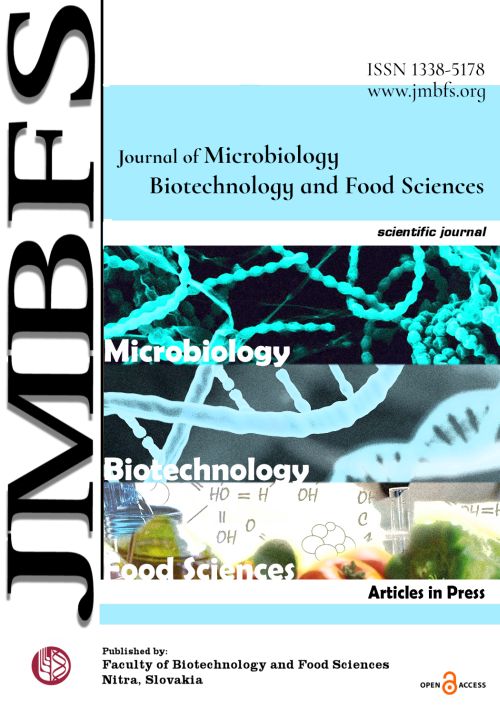 Downloads
How to Cite
Patel, R., Trivedi, U., & Patel, K. C. (2021). LIPASES: AN EFFICIENT BIOCATALYST FOR BIOTECHNOLOGICAL APPLICATIONS. Journal of Microbiology, Biotechnology and Food Sciences, e2498. https://doi.org/10.15414/jmbfs.2498
License
Copyright (c) 2021 Radhika Patel, Ujjval Trivedi, Kamlesh C. Patel
This work is licensed under a Creative Commons Attribution-NoDerivatives 4.0 International License.
Received 2019-12-27
Accepted 2021-09-27
Online Published 2021-11-09