ANTITUMOR PROPERTIES OF VEGETABLE OIL EXTRACT FROM GREEN MICROALGA COELASTRELLA SP.
Keywords:
microalgae, Coelastrella, antitumor activity, apoptosis, HeLa, sunflower oil extract
Abstract
Microalgae are of great importance for the production of original natural substances of interest for food, health or biotechnological applications. Mass cultures of green microalgae are used for production of carotenoids such β-carotene, astaxanthin, canthaxanthin, lutein etc.
The aim of this study was to obtain an oil extract from a Bulgarian green microalga strain Coelastrella sp. BGV and to assess its anticancer and apoptogenic activity in vitro against human tumor cells HeLa by means of MTT and fluorescence microscopy analyses. The results showed that the oil extract obtained by a direct extraction using a common vegetable oil reduces proliferation and induces apoptosis in HeLa cells.
In contrast to widely used organic solvents for the production of carotenoids, the applied bio-solvent (sunflower oil) can be a valuable alternative approach for the needs of the food industry. The resulting oil extract showed promising antitumor and apoptosis-inducing activity against HeLa cells in vitro and potential for future use in practice.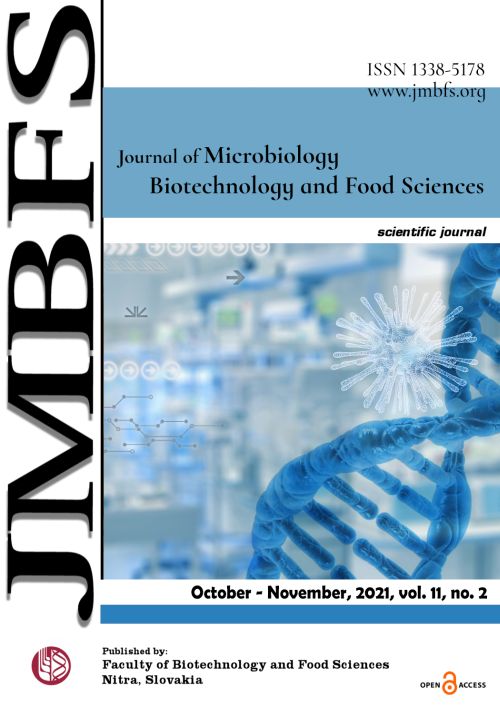 Downloads
How to Cite
Toshkova-Yotova, T., Georgieva, A., Todorova, K., Pilarski, P., & Toshkova, R. (2021). ANTITUMOR PROPERTIES OF VEGETABLE OIL EXTRACT FROM GREEN MICROALGA COELASTRELLA SP. Journal of Microbiology, Biotechnology and Food Sciences, 11(2), e2744. https://doi.org/10.15414/jmbfs.2744
License
Copyright (c) 2021 Tanya Toshkova-Yotova, Ani Georgieva, Katerina Todorova, Plamen Pilarski, Reneta Toshkova
This work is licensed under a Creative Commons Attribution-NoDerivatives 4.0 International License.
Received 2020-03-10
Accepted 2021-01-20
Online Published 2021-10-01