IDENTIFICATION OF VIRULENCE FACTORS AMONG ESBL-PRODUCING ESCHERICHIA COLI CLINICAL ISOLATES FROM GAZA STRIP, PALESTINE
Virulence Genes among ESBL-producing E.coli
Keywords:
virulence factors, phylogenetic groups, pathogenicity islands PAIs, ESBL producers, antibiotic resistance, E. coli
Abstract
This study was done to assess the occurrence of virulence factors and correlation of phylogenetic grouping in ESBLs producing E. coli isolates from Palestine.
Twenty-seven ESBLs producing E. coli isolates were collected between April and June 2013 from three hospitals in Gaza. Detection of genes encoding virulence factors, pathogenicity associated island marker (PAI) and phylogenetic groups were studied by PCR. The correlation of E. coli phylogenetic grouping with the virulence factors in the isolates was studied. The clonal relationships between the isolates were tested by pulsed-field gel electrophoresis (PFGE).
Overall, 44.4% of the 27 E. coli isolates belonged to phylogroup B2, 44.4% to D and 11.2% to A. Among the isolates, fimH, traT and fimA were the most frequent virulence genes and were found over 85% of the isolates. PAIs was found in 8 isolates while the tcpC gene was detected in one isolate. The overall prevalence of PAI was higher in group B2 as compared to groups A and D (p<0.043). A clonal diversity was confirmed among our isolates (27 unrelated PFGE profiles). We report for the first time the prevalence of tcpC as a new virulence marker and PAI in clinical ESBLs-producing E. coli in Palestine.
This study indicates that most of the ESBL- positive isolates showed virulence genes and most strains belonged to phylogenetic groups B2 and D. The study suggested that high number of virulence genes in studied strains may be important factors in the infections development.
Downloads
Download data is not yet available.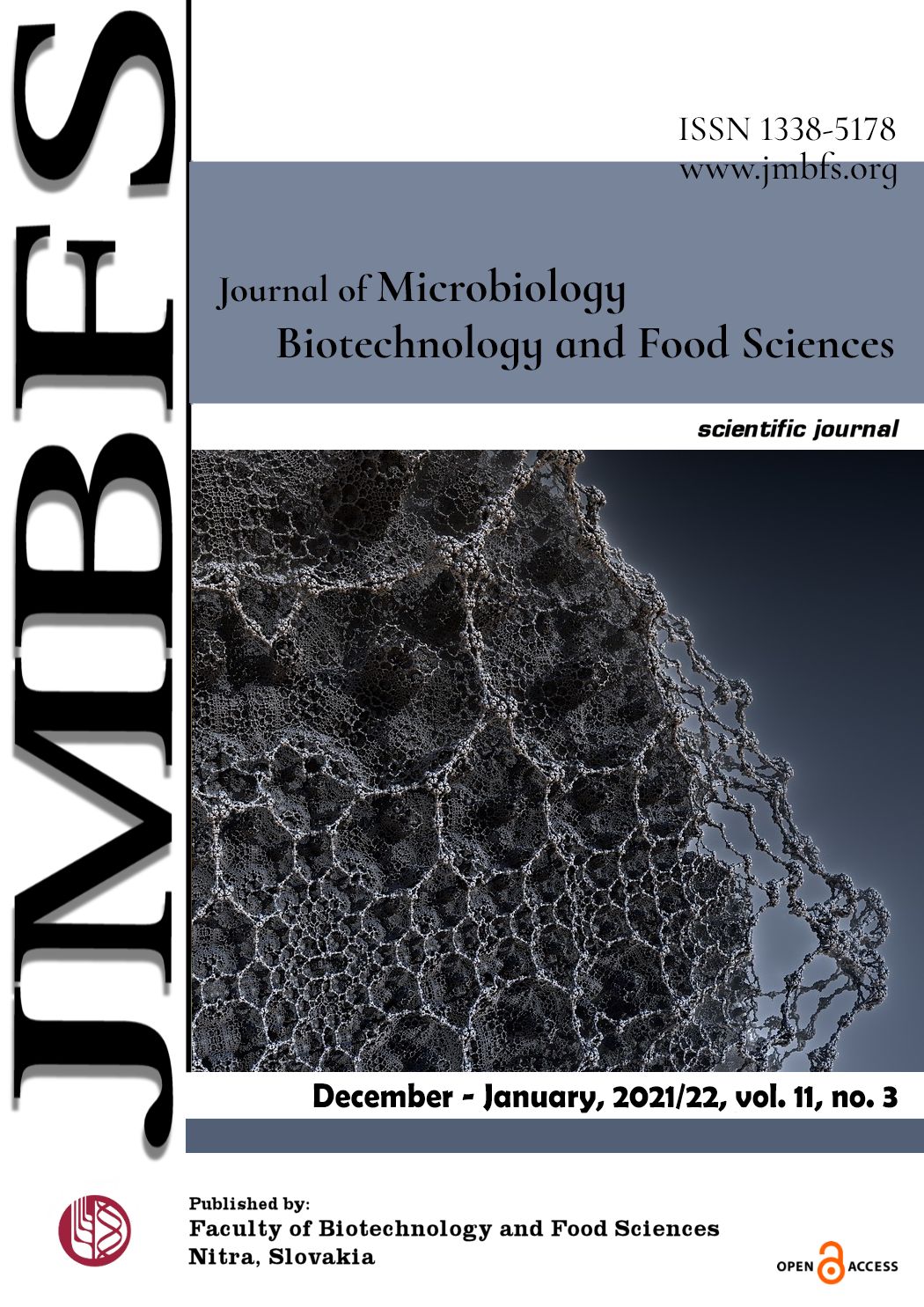 Downloads
How to Cite
Tayh, G., NAGARJUNA, D., BEN SALLEM, R., VERMA, V., BEN YAHIA, H., GHARSA, H., YADAV, M., & BEN SLAMA, K. (2021). IDENTIFICATION OF VIRULENCE FACTORS AMONG ESBL-PRODUCING ESCHERICHIA COLI CLINICAL ISOLATES FROM GAZA STRIP, PALESTINE: Virulence Genes among ESBL-producing E.coli. Journal of Microbiology, Biotechnology and Food Sciences, 11(3), e2865. https://doi.org/10.15414/jmbfs.2865
License
Copyright (c) 2021 Ghassan Tayh, Daram NAGARJUNA, Rym BEN SALLEM, Vivek VERMA, Houssem BEN YAHIA, Haythem GHARSA, Manisha YADAV, Karim BEN SLAMA
This work is licensed under a Creative Commons Attribution 4.0 International License.
All papers published in the Journal of Microbiology, Biotechnology and Food Sciences  are published under a CC-BY licence (CC-BY 4.0). Published materials can be shared (copy and redistribute the material in any medium or format) and adapted (remix, transform, and build upon the material for any purpose, even commercially) with specifying the author(s).
Received 2020-04-01
Accepted 2021-06-17
Online Published 2021-12-01