VISIBLE/NEAR-INFRARED (VIS/NIR) SPECTROSCOPY TECHNIQUE TO DETECT GRAY MOLD DISEASE IN THE EARLY STAGES OF TOMATO FRUIT
VIS/NIR spectroscopy for detecting gray mold in tomato
Keywords:
gray mold;, visible/near-infrared (VIS/NIR) spectroscopy, early detection, multivariate data analysis (MVDA), principal component analysis (PCA)
Abstract
Fungal diseases are among the most common problems that affect tomato fruits, especially after harvesting. The early detection of these diseases may save 60% of the losses. Thus, this study aimed to detect the gray mold disease at an early stage on tomato fruits using the non-destructive visible/near-infrared (VIS/NIR) technique. Botrytis. cinerea fungus was isolated and identified using two specific primer sets (C729+/- and BC108+/BC563-). Three tomato varieties were used for this study (i.e. Harver, Izmer and Ekram), 30 samples from each variety, 20 samples were injected with the B. cinerea and 10 samples were left as control/healthy samples. Samples were examined using the VIS/NIR spectroscopy with a range of 550-1100 nm for three days. Thereafter, the data were analyzed using principal component analysis (PCA), where the results showed the ability of VIS/NIR to detect the infected samples on the second day of the injection, and before the symptoms appear on the samples. Two PCs explained 99% and 100% of VIS/NIR variance, respectively.
Downloads
Download data is not yet available.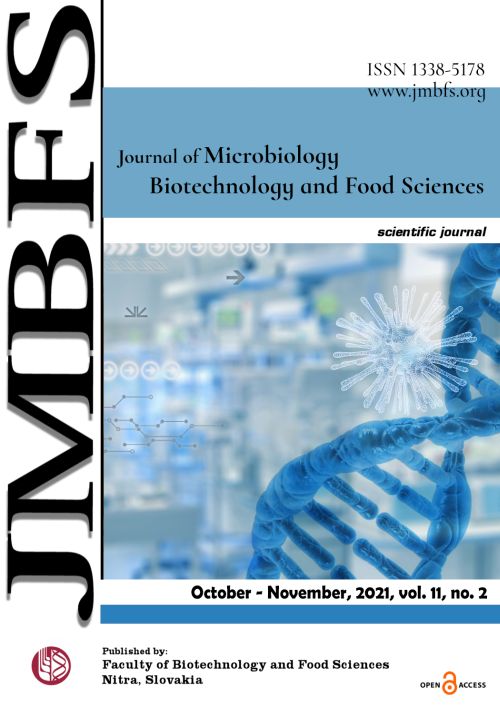 Downloads
How to Cite
Najjar, K., & Abu-Khalaf, N. (2021). VISIBLE/NEAR-INFRARED (VIS/NIR) SPECTROSCOPY TECHNIQUE TO DETECT GRAY MOLD DISEASE IN THE EARLY STAGES OF TOMATO FRUIT: VIS/NIR spectroscopy for detecting gray mold in tomato. Journal of Microbiology, Biotechnology and Food Sciences, 11(2), e3108. https://doi.org/10.15414/jmbfs.3108
License
Copyright (c) 2021 Khadeja Najjar, Nawaf Abu-Khalaf
This work is licensed under a Creative Commons Attribution 4.0 International License.
All papers published in the Journal of Microbiology, Biotechnology and Food Sciences  are published under a CC-BY licence (CC-BY 4.0). Published materials can be shared (copy and redistribute the material in any medium or format) and adapted (remix, transform, and build upon the material for any purpose, even commercially) with specifying the author(s).