FREE RADICAL SCAVENGING ABILITY, MECHANISMS OF ACTION AND HEALTH IMPLICATIONS OF OYSTER MUSHROOMS (Pleurotus species)
PLEUROTUS SPECIES (OYSTER MUSHROOMS): FREE RADICAL SCAVENGING CAPACITY
Keywords:
Oyster mushrooms, antioxidant property, human health, biomedical activities, medicinal mushroom
Abstract
Due to the importance of Oyster mushrooms (Pleurotus species) as a source of food and medicine to man, they have been cultivated both on large and small scales or collected in the wild. The present study evaluated the different antioxidant activities, mechanisms of action and various health implications on human of Oyster mushrooms. Since a single study is not effective in determining the antioxidant property of mushroom, several in vitro assays were reviewed including scavenging activities of DPPH, superoxide, nitric oxide, hydroxyl and ABTS as well as Oxygen radical absorbance capacity (ORAC) activities among others. In vivo assays like enzymatic (catalase (CAT), superoxide dismutase (SOD), glutathione S-transferase (GST),  glutathione peroxidase (GPx), glutathione reductase (GR), and ascorbate peroxidase (APx) and non-enzymatic (Ascorbic acid, Vitamin E and Glutathione (GSH)); using mice, rats and porcine brain were also reviewed. Oyster mushrooms extract scavenged free radicals and prevented oxidative stress both in vitro and in vivo, and can influence their activities as natural immune boosters and thereby affect human health positively. The review has revealed oyster mushrooms as functional foods enriched with antioxidants and a good potential to oppose the formation of reactive oxygen and nitrogen species, preventing oxidative stress and scavenging free radicals.
Downloads
Download data is not yet available.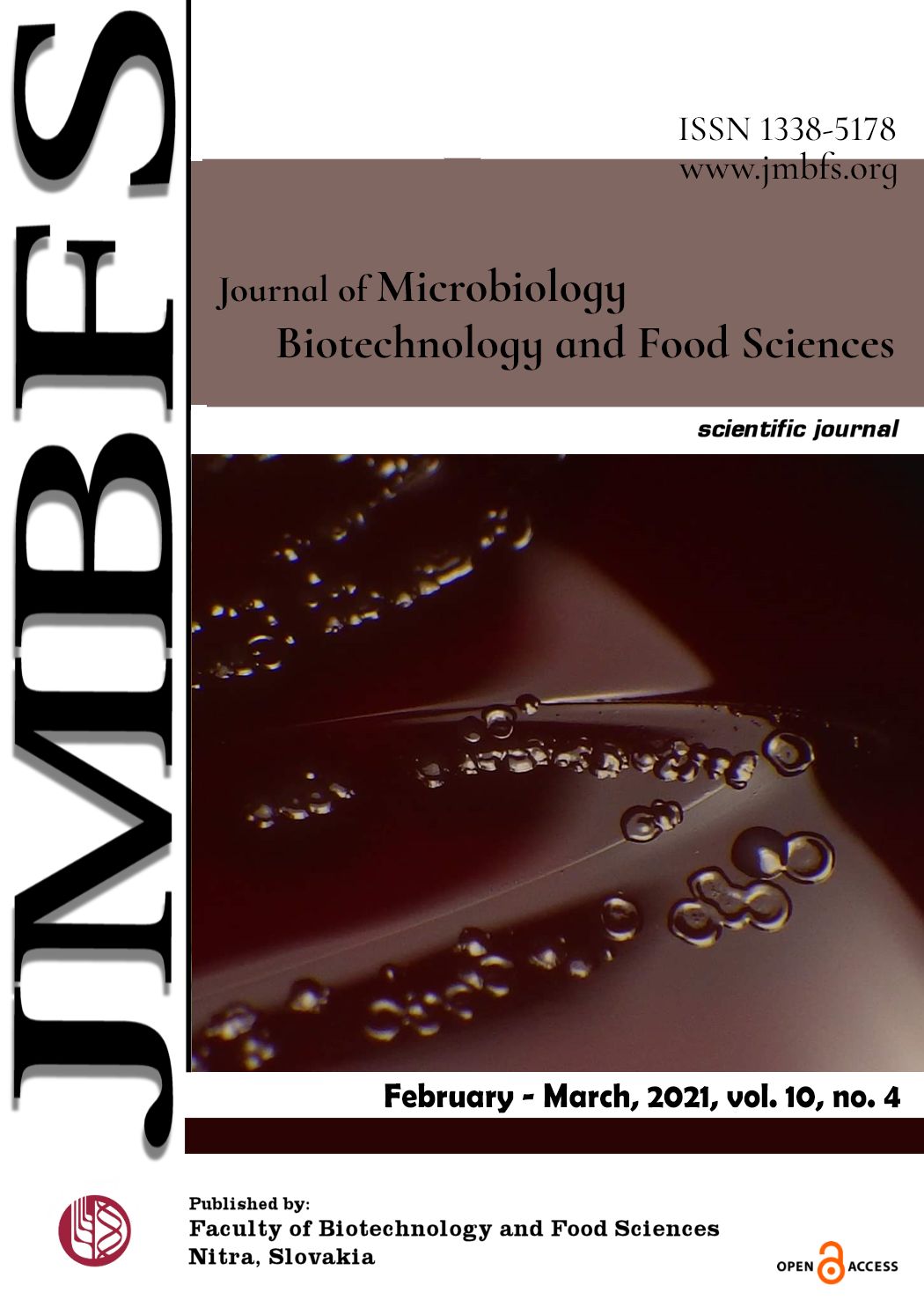 Downloads
How to Cite
Comfort Olukemi, B. ., Omomowo, . I. O., Alao Bukola, . M. ., Elegbede, . J. A., & Adebayo, E. A. (2021). FREE RADICAL SCAVENGING ABILITY, MECHANISMS OF ACTION AND HEALTH IMPLICATIONS OF OYSTER MUSHROOMS (Pleurotus species): PLEUROTUS SPECIES (OYSTER MUSHROOMS): FREE RADICAL SCAVENGING CAPACITY. Journal of Microbiology, Biotechnology and Food Sciences, 10(4), 636–647. https://doi.org/10.15414/jmbfs.2021.10.4.636-647
License
Copyright (c) 2021 Bamigboye Comfort Olukemi, Iyabo Olunike Omomowo, Micheal Alao Bukola, Joseph Adetunji Elegbede, Elijah Adegoke Adebayo
This work is licensed under a Creative Commons Attribution 4.0 International License.
All papers published in the Journal of Microbiology, Biotechnology and Food Sciences  are published under a CC-BY licence (CC-BY 4.0). Published materials can be shared (copy and redistribute the material in any medium or format) and adapted (remix, transform, and build upon the material for any purpose, even commercially) with specifying the author(s).