ANALYSIS OF BACTERIAL DIVERSITY IN RAW FISH CEVICHE
Keywords:
Ceviche, Bacteriome, Food Safety
Abstract
Ceviche is a traditional dish made from raw fish meat marinated in lime juice without any heat cooking step throughout its preparation process. Although the use of organic acids as antibacterial agents is well known; recent research indicates that lime juice actually can reduce the risk of V. parahemolyticus infections but it is ineffective against other potential pathogens. Despite the fact that fresh fish meat is safe; exposed organs including skin, gills and guts represent a potential source of bacterial contamination. In Mexico, diarrheal diseases are caused mainly by contaminated food; it is estimated that almost 67% of infections are due the presence of bacterial agents mainly in frozen and fresh fish. The main objective of this study was to estimate the taxonomic diversity of microbial species present in ready-to-eat ceviche using a metagenomic approach. Six samples of commercially available ceviche were subjected to DNA high throughput sequencing and bioinformatics analyses, we identified between 65,000 and 131,000 reads per sample. The predominant phyla identified through the samples were Proteobacteria, Bacteroidetes and Firmicutes. We discuss the factors involved in the microbiological quality of this kind of raw foods and how they influence the bacterial diversity within the analyzed samples.
Downloads
Download data is not yet available.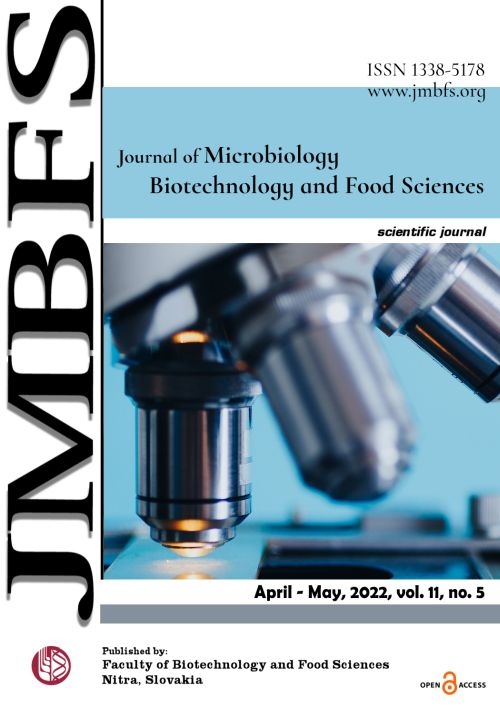 Downloads
How to Cite
Ramirez Martinez, M. E., Rodriguez Castillejos, G. C. ., Hernandez Jimenez, M. C., Ramirez Quintanilla, L. Y., Siller Lopez, F., Acosta Cruz, E., & Martinez Montoya, H. (2022). ANALYSIS OF BACTERIAL DIVERSITY IN RAW FISH CEVICHE. Journal of Microbiology, Biotechnology and Food Sciences, 11(5), e3321. https://doi.org/10.55251/jmbfs.3321
License
Copyright (c) 2022 Myriam Elizabeth Ramirez Martinez, Guadalupe C. Rodriguez Castillejos, Maria C. Hernandez Jimenez, Laura Y. Ramirez Quintanilla, Fernando Siller Lopez, Erika Acosta Cruz, Humberto Martinez Montoya
This work is licensed under a Creative Commons Attribution 4.0 International License.
All papers published in the Journal of Microbiology, Biotechnology and Food Sciences  are published under a CC-BY licence (CC-BY 4.0). Published materials can be shared (copy and redistribute the material in any medium or format) and adapted (remix, transform, and build upon the material for any purpose, even commercially) with specifying the author(s).