BIO-CONTROL AND ULTRASTRUCTURE OF POST-HARVEST PATHOGENIC FUNGI OF APPLE FRUITS
Post-harvest pathogenic fungi of fruits
Keywords:
Antifungal activity, Bio-control, Alternaria, Post-harvest Fungi, Apple Fruits, Medicinal Plants
Abstract
Post-harvest pathogenic fungi of fruits cause huge losses. Apples fruits are important for consumers. The antifungal activity of aqueous and ethanolic extracts of eleven medicinal plants at fives concentrations (0, 1, 3, 5, 10%; w/v) were tested against Alternaria alplateternata. Inhibition of fungal growth, along with the lower D50 values of the ethanolic extract of the tested plants compared to those of the aqueous extract exhibited more efficient antifungal activity.
The ultrastructure of the fungal hyphae without treatment (control) showed normal hyphae enclosed by a wall composed of three layers in which the middle layer is more electron- denser than the outer and inner layers. An intact plasma membrane was also observed. In addition, an electron-dense material was observed at the tip of the hyphae. The cytoplasm contained several organelles. On the other hand, the treated hyphae with the ethanolic extracts of the mixture of E. citriodora and T. capitatus exhibited many changes as noted in both T.S and L.S such as the increase of the electron density of the outer layer of the hyphal wall more than the control, also numerous big lipid bodies were almost occupied the cytoplasm. Eucalyptus citridora and Thymus capitatus had a potential as antifungal agent for biocontrol of post-harvest pathogenic fungi of tested apple fruits.
Downloads
Download data is not yet available.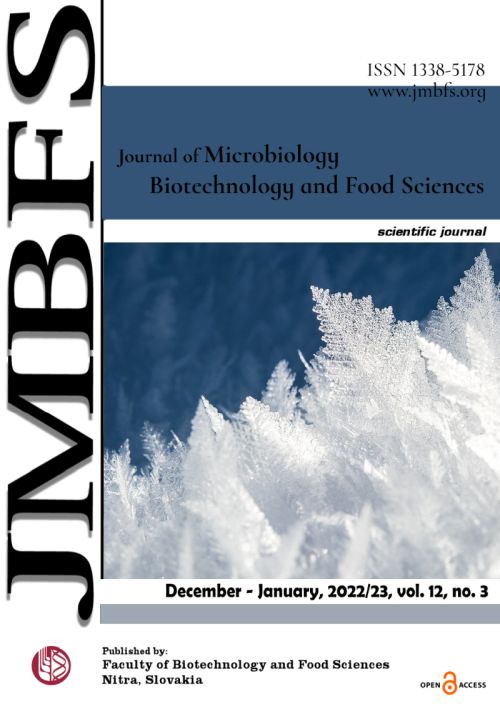 Downloads
How to Cite
Serag, M. S., Baka, Z. A. ., Farg , A. I. ., & Mohesien , M. T. (2022). BIO-CONTROL AND ULTRASTRUCTURE OF POST-HARVEST PATHOGENIC FUNGI OF APPLE FRUITS: Post-harvest pathogenic fungi of fruits. Journal of Microbiology, Biotechnology and Food Sciences, 12(3), e4189. https://doi.org/10.55251/jmbfs.4189
License
Copyright (c) 2022 Mamdouh Salem Serag, Zakaria A. Baka, Marwa T. Mohesien
This work is licensed under a Creative Commons Attribution 4.0 International License.
All papers published in the Journal of Microbiology, Biotechnology and Food Sciences  are published under a CC-BY licence (CC-BY 4.0). Published materials can be shared (copy and redistribute the material in any medium or format) and adapted (remix, transform, and build upon the material for any purpose, even commercially) with specifying the author(s).