NOVEL RUMMELIIBACILLUS SP. ISOLATED FROM FERMENTED VEGETABLE PRODUCTS AS THE POTENTIAL PROBIOTICS
Keywords:
Antimicrobial activity, Rummeliibacillus pycnus, Rummeliibacillus stabekisii, Lactic acid bacteria, Fermented vegetables, acid- and bile salt-tolerance, Probiotic properties
Abstract
The novel lactic acid bacteria has potential probiotics which were selectively screened from different fermented vegetable products by antagonistic activity against Escherichia coli ATCC 25922 as a food-borne pathogenic bacteria. From 40 isolates on MRS agar, some isolates had anti-E. coli activity. Surprisingly, isolated STR 0103f and STR 0404f strains demonstrated bile salt-tolerance at 0.3% bile salt for 24 hours with survival rate of 67.77±0.38 and 68.72±0.45%, respectively. Both strains also survived under acidic conditions (pH 3-5) with 60.53±0.08-76.87±0.09% of survival rate. STR 0103f and STR 0404f strains elicited the broad spectrum against both Gram-negative (Pseudomonas aeruginosa ATCC 27853, Salmonella typhimurium ATCC 13311 and Salmonella  paratyphi A) and Gram-positive (StaphylococcusS. aureus ATCC 25923) pathogenic strains which appeared inhibition zone of 7.33±0.58-8.33±0.58 mm and revealed a susceptibility to various antibiotics. Moreover, two selected strains were also able to adhere to stainless steel plates at least 30% of adhesion rate and without any detectable hemolytic activity. Morphological, biochemical characteristics and 16S rRNA gene sequences were used as a tool for bacterial identification. Both STR 0103f and STR 0404f isolates were identified as Rummeliibacillus sp. which are Rummeliibacillus pycnus STR 0103f and Rummeliibacillus stabekisii STR 0404f, respectively. Thus, R. pycnus STR 0103f and R. stabekisii STR 0404f would be the novel bacterial strains from fermented vegetable products that act as the potential probiotic candidates for safety food bio-preservation.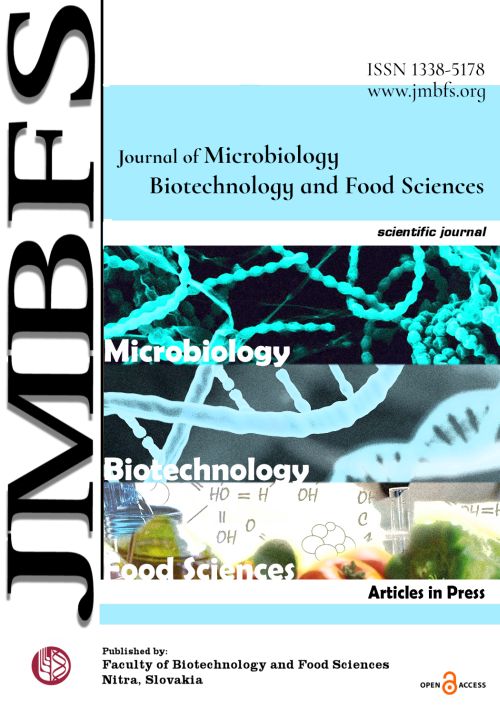 Downloads
How to Cite
Tinrat, S., & Sedtananun, S. . (2021). NOVEL RUMMELIIBACILLUS SP. ISOLATED FROM FERMENTED VEGETABLE PRODUCTS AS THE POTENTIAL PROBIOTICS. Journal of Microbiology, Biotechnology and Food Sciences, e4194. https://doi.org/10.15414/jmbfs.4194
License
Copyright (c) 2021 Sirikhwan Tinrat, Saranya Sedtananun
This work is licensed under a Creative Commons Attribution-NoDerivatives 4.0 International License.
Received 2021-01-10
Accepted 2021-11-08
Online Published 2021-11-24