ANTIHYPERLIPIDEMIC EFFECT OF TEPHROSIA VILLOSA IN ACUTE AND CHRONIC HYPERLIPIDEMIA RAT MODELS
Keywords:
Triton WR-1339, Cholesterol, Simvastatin, LDL-C, HDL-C, Atherogenic index
Abstract
Atherosclerosis plays a pivotal role in various cardiovascular disorders. Most of the antiatherogenic currently available drugs are associated with many side effects than plant derived formulations. Tephrosia villosa (Fabaceae) plant is being used traditionally, in the treatment of hyperlipidemia, diabetes, jaundice and used as antioxidant and antimicrobial. The objective of the current experiment is to evaluate the antihyperlipidemic potency of chloroform (CETV) and ethanolic extract of Tephrosia villosa (EETV) in acute (Triton WR-1339 induced) and chronic (cholesterol diet-induced) hyperlipidemia models. Simvastatin, standard drug used to compare the effect of the both extracts at 125mg/kg, 250mg/kg and 500mg/kg b.w). The serum lipid parameters were analysed using enzymatic kits. The preliminary phytochemical screening of extracts of Tephrosia villosa showed the presence of phenols, flavonoids, saponins, coumarins, glycosides and alkaloids. In acute model, the pretreatment with both extracts for 7 days showed significant reduction (p<0.001) in serum triglycerides (TG), total cholesterol (TC), very low-density lipoprotein cholesterol (VLDL-C) and low-density lipoprotein cholesterol (LDL-C) levels, and subsequent rise (p<0.01) in high-density lipoprotein cholesterol (HDL-C) levels after 24h tritonisation in hyperlipidemic rats. Similarly, in chronic hyperlipidemia model, all the lipid (TG, TC, LDL-C & VLDL-C) levels were reduced significantly (p<0.001) with successive rise in HDL-C level after 30 days of study with 15 days of extract treatment. The current study indicates the antihyperlipidemic activity of Tephrosia villosa is probably due to the phenolic constituents in extracts, which may inhibit HMG CoA reductase or activate lipoprotein lipase and lecithin acyl transferase (LCAT). The results would provide a larger insight in design and development of newer therapeutics for a wide arena of lifestyle disorders.
Downloads
Download data is not yet available.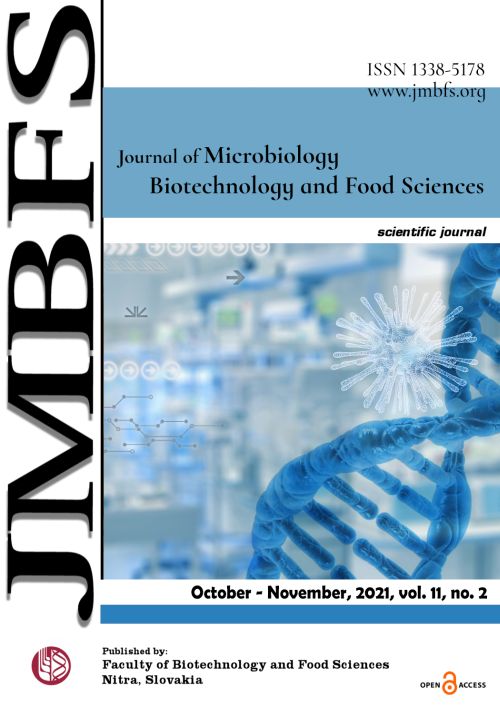 Downloads
How to Cite
Samuel, V. J., Agasa Ramu, M., & Vedigounder, M. . (2021). ANTIHYPERLIPIDEMIC EFFECT OF TEPHROSIA VILLOSA IN ACUTE AND CHRONIC HYPERLIPIDEMIA RAT MODELS. Journal of Microbiology, Biotechnology and Food Sciences, 11(2), e4222. https://doi.org/10.15414/jmbfs.4222
License
Copyright (c) 2021 Mr. Vimal, Mahesh Agasa Ramu, Dr. Murugan
This work is licensed under a Creative Commons Attribution 4.0 International License.
All papers published in the Journal of Microbiology, Biotechnology and Food Sciences  are published under a CC-BY licence (CC-BY 4.0). Published materials can be shared (copy and redistribute the material in any medium or format) and adapted (remix, transform, and build upon the material for any purpose, even commercially) with specifying the author(s).