POLYPHASIC TAXONOMY ANALYSE OF COMAMONAS TESTOSTERONІ RESISTANT ТО HEXACHLOROBENZENE
Keywords:
resistance to hexachlorobenzene, polyphasic taxonomy analyse, Comamonas testosteronі
Abstract
Based on the analysing phenotypic and genotypic properties, the taxonomic position of isolates  # 46 and  # 47 was established and assigned to the species Comamonas testosteronі UCM B-400 and UCM B-401. Isolates were selected from the soil with organochlorine wastes landfill of chemical enterprises in Kalush, Ivano-Frankivsk region, Ukraine. The strains are resistant to high hexachlorobenzene concentrations. According to morphological, cultural and biochemical properties, the studied strains are related to typical members of the Comamonadaceae family, they are motile gram-negative rods, aerobic, chemoorganotrophic. Saturated and unsaturated fatty acids with a carbon chain length from C10 to C18 were found in composition of cellular lipids. The qualitative and quantitative composition of marker hydroxy acids, namely: 2 hydroxyhexadecane (C16: 0 2OH) and 3 hydroxydecane (C10: 0 3OH) in the lipids of the strains ranged from 2-5%, which corresponded to their content in the representatives of the Comamonas genus. Phylogenetic analysing the nucleotide sequences of the 16S rRNA gene revealed the affinity of isolates # 46 (97.77%) and # 47 (98.05%) with a similar nucleotide sequence of a typical strain of Comamonas testosteroni LMG 1800. The 16S rRNA nucleotide sequences of Comamonas testosteroni UCM B-400 and UCM B-401 were placed in GenBank under the numbers SUB9376895 Comamonas_testosteroni_46    MW861636 and SUB9376895 Comamonas_testosteroni_47    MW861637.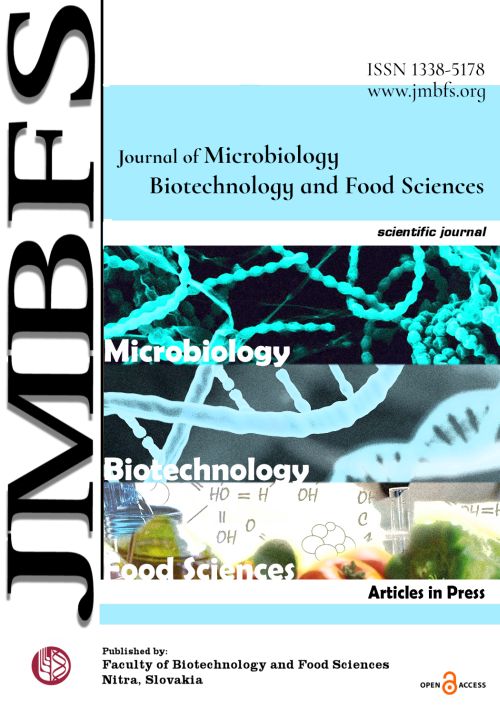 Downloads
How to Cite
Dimova, M., Dankevych, L. ., Yamborko, N. ., & Iutynska , G. . (2021). POLYPHASIC TAXONOMY ANALYSE OF COMAMONAS TESTOSTERONІ RESISTANT ТО HEXACHLOROBENZENE. Journal of Microbiology, Biotechnology and Food Sciences, e4711. https://doi.org/10.15414/jmbfs.4711
License
Copyright (c) 2021 Mariia Dimova, Liudmyla Dankevych, Nadiya Yamborko, Galyna Iutynska
This work is licensed under a Creative Commons Attribution-NoDerivatives 4.0 International License.
Received 2021-04-29
Accepted 2021-10-12
Online Published 2021-11-12