PROXIMATE COMPOSITION OF WILD EDIBLE MUSHROOMS FROM THE BATAK MOUNTAIN, BULGARIA
Keywords:
Biologically active components, Chemical composition, Lipids, Wild edible mushrooms
Abstract
Aim: The aim of the study was to be thoroughly examined the chemical and lipid composition of three species of wild edible mushrooms (Boletus pinophilus, Cantharellus cibarius and Craterellus cornucopioides) grown in Bulgaria as well as performing a principal component analysis in order to clarify specific relationships between the species and their nutritional compositions. Methods: Standard methods following the ISO procedures were used for determination of the components. Results: Moisture, crude fat, proteins, total carbohydrates, crude fibre and ash were determined in the examined mushroom species. Potassium and phosphorus were the essential elements in the mushrooms. Unsaturated fatty acids predominated in the lipid fraction of triacylglycerols, and oleic acid was the main one. Ergosterol was the major sterol in the lipid fraction of all mushrooms (42.4 – 72.8%). Phospholipid composition of the mushrooms differed, and phosphatidic acids were the main class in B. pinophilus and C. cibarius, while in C. cornucopioides all phospholipid classes were present in similar quantities. Fatty acid composition of the main phospholipid classes of the mushrooms was determined for the first time and was observed that saturated fatty acids (51.2 – 73.3%) predominated in all main phospholipids except in phosphatidic acids from C. cornucopioides, where unsaturated fatty acids prevailed (54.9%). Conclusion: Some key differences were observed in the chemical and lipid composition of the examined mushroom species but all of them were abundant in valuable fat-soluble biologically active components which made them suitable for possible application as food additives in many products and functional foods.
Downloads
Download data is not yet available.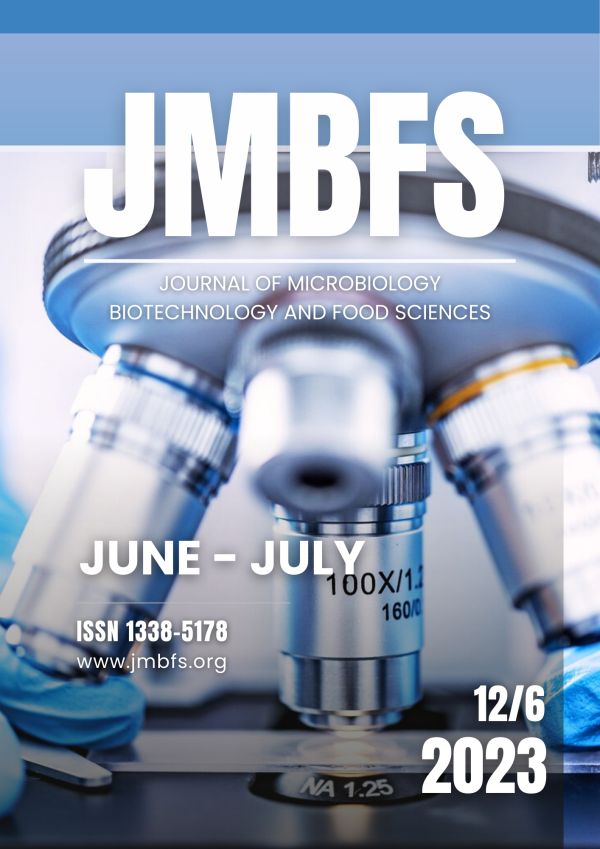 Downloads
How to Cite
Dospatliev, L., Petkova, Z., Antova, G., Angelova-Romova, M., Ivanova, M., & Mustafa, S. (2023). PROXIMATE COMPOSITION OF WILD EDIBLE MUSHROOMS FROM THE BATAK MOUNTAIN, BULGARIA. Journal of Microbiology, Biotechnology and Food Sciences, 12(6), e4718. https://doi.org/10.55251/jmbfs.4718
License
Copyright (c) 2023 Zhana Petkova, Lilko Dospatliev, Ginka Antova, Maria Angelova-Romova, Miroslava Ivanova, Sibel Mustafa
This work is licensed under a Creative Commons Attribution 4.0 International License.
All papers published in the Journal of Microbiology, Biotechnology and Food Sciences  are published under a CC-BY licence (CC-BY 4.0). Published materials can be shared (copy and redistribute the material in any medium or format) and adapted (remix, transform, and build upon the material for any purpose, even commercially) with specifying the author(s).