IN-VITRO ASSESSMENT OF PROBIOTIC PROPERTIES OF LACTIC ACID BACTERIA ISOLATED FROM NATURALLY FERMENTED RICE GRUEL OF SOUTH INDIA
Lactic acid bacteria from fermented rice gruel
Keywords:
Lactic acid bacteria, Probiotic activity, Fermented rice gruel, Nutrition parameter
Abstract
Fermented foods prepared traditionally involves natural fermentation by numerous beneficial bacteria. The scientific evidence for the presence of specific probiotic strains in fermented rice gruel is lacking. The objective of our study is to identify the lactic acid bacteria involved in the fermentation of rice gruel and to evaluate their probiotic characteristics. From the fermented rice gruel, Pediococcus pentosaceus strain PRK1 (MT019527) and Lactobacillus plantarum strain PRK7 (MT022517) and Lactobacillus plantarum strain PRK11 (MT022576) were identified by 16s rRNA gene sequencing and their sequence was submitted to NCBI. The invitro probiotic characterization methods like autoaggregation, co-aggregation, tolerance to acidic pH, bile, Nacl, antibacterial activity, antibiotic susceptibility and safety assessment were analyzed in this study. The evaluated invitro probiotic properties of the isolates were tolerance to pH 2; autoaggregation is 91%, 83 %, and 89%; co-aggregation is 36.1%, 37.1%, and 42.5%; the percentage of suppression at 0.3% of bile is 88%, 86.5%, and 81.3% and tolerance to 4% of NaCl. The isolates exhibited antibacterial activity against the clinical pathogens E. coli, P. aeroginosa, Proteus sp., K. pneumoniae, Salmonella sp., S. aureus, Staphylococcus haemolyticus, Enterococcus faecium, and S. epidermidis. The safety assessment of the isolates exhibits no hemolytic activity and it is also sensitive to most of the tested antibiotics. Further, nutrition profiling of fermented rice gruel shows increase in micronutrients and the presence of vitamin B9 and B12. Hence, this study provides evidence for the presence of lactic acid bacteria in the fermented rice gruel an indigenous food  which can be developed as functional food in future.
Downloads
Download data is not yet available.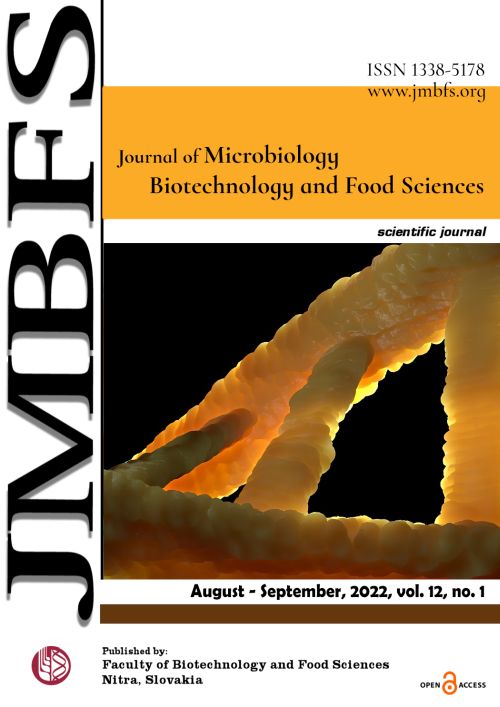 Downloads
How to Cite
Kowsalya, M., Sudha, K. G. ., Ali, S., Velmurugan, T., Karunakaran, G., & Prasanna Rajeshkumar, M. (2022). IN-VITRO ASSESSMENT OF PROBIOTIC PROPERTIES OF LACTIC ACID BACTERIA ISOLATED FROM NATURALLY FERMENTED RICE GRUEL OF SOUTH INDIA: Lactic acid bacteria from fermented rice gruel. Journal of Microbiology, Biotechnology and Food Sciences, 12(1), e4908. https://doi.org/10.55251/jmbfs.4908
License
Copyright (c) 2021 Mariyappan Kowsalya, Kattakgounder Govindaraj Sudha, Saheb Ali, Thangavel Velmurugan, Gopalu Karunakaran, Dr. M. Prasanna Rajeshkumar
This work is licensed under a Creative Commons Attribution 4.0 International License.
All papers published in the Journal of Microbiology, Biotechnology and Food Sciences  are published under a CC-BY licence (CC-BY 4.0). Published materials can be shared (copy and redistribute the material in any medium or format) and adapted (remix, transform, and build upon the material for any purpose, even commercially) with specifying the author(s).