TISSUE-SPECIFIC RESPONSES IN SOYBEAN PLANTS EXPOSED TO CADMIUM
Keywords:
cadmium, proline, catalase, peroxidase, superoxide dismutase, glucanase, chitinase
Abstract
Cadmium seriously affects plant growth, development, homeostasis and yield production. The effect of two doses of cadmium (10 and 100 mg.kg-1 Cd2+) on plants of sensitive soybean variety (Glycine max L. cv. Kyivska 98) were studied after short treatment in a pot experiment. Several parameters were determined in roots and leaves, including cell viability, the content of malondialdehyde and proline, and activity of defense proteins (catalases, guaiacol peroxidases, ascorbate peroxidases, superoxide dismutases, chitinases, β-1,3-glucanases). Changes caused by cadmium depended both on the concentration of cadmium, as well as on the type of plant organ and its developmental stage. Soybean tissues generally showed low levels of oxidative stress and reduced proline content likely due to activity or depletion by different mechanisms (respectively). The activity of catalases and guaiacol peroxidases was inhibited by cadmium concentrations only in younger leaves. The enzymatic activities of superoxide dismutases, chitinases and β-1,3-glucanases were highly variable depending on the cadmium concentration as well as the soybean organ analyzed. Our experiments revealed differences in defense strategies and regulatory mechanisms between plant organs as well as developmental stages of leaves in response to cadmium toxicity.
Downloads
Download data is not yet available.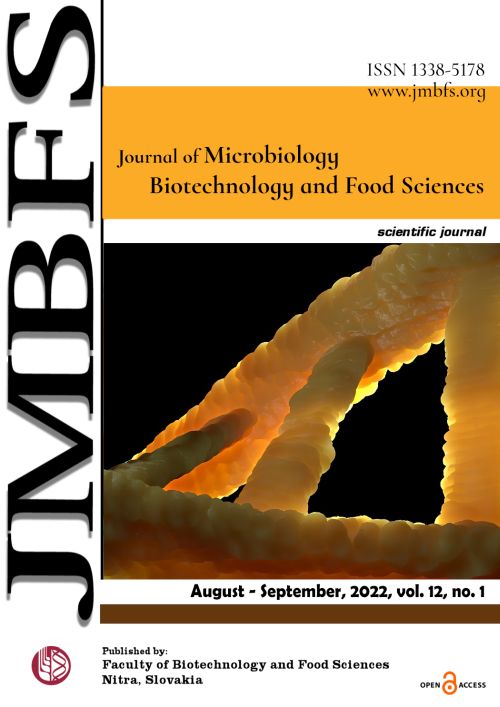 Downloads
How to Cite
Roszival, M., Lukacsova, V., Muranova, K., Bi­ro, R., Grmanova, N., & Meszaros, P. (2022). TISSUE-SPECIFIC RESPONSES IN SOYBEAN PLANTS EXPOSED TO CADMIUM. Journal of Microbiology, Biotechnology and Food Sciences, 12(1), e5614. https://doi.org/10.55251/jmbfs.5614
License
Copyright (c) 2021 Patrik Mészáros, Viktória Lukácsová, Kristína Muráňová, Roman Bíro, Nikola Grmanová, Marcel Roszival
This work is licensed under a Creative Commons Attribution 4.0 International License.
All papers published in the Journal of Microbiology, Biotechnology and Food Sciences  are published under a CC-BY licence (CC-BY 4.0). Published materials can be shared (copy and redistribute the material in any medium or format) and adapted (remix, transform, and build upon the material for any purpose, even commercially) with specifying the author(s).