EFFECT OF HOT AIR OVEN, MICROWAVE, MICROWAVE CONVECTIVE, FREEZE DRIED PINEAPPLE PULP ON STORAGE STABILITY OF CASEIN BALL (RASGULLA)
Keywords:
Sweetmeat, Drying, Antioxidant, Texture, Colour, Shelf-life
Abstract
Casein ball (rasgulla) is a round-shaped white coloured cheese ball of a very soft springy and porous texture dipped in sugar syrup and is one of the traditional milk-based sweets of India. Both fresh pineapple pulp (PP) and hot air (PH), microwave (PMW), microwave convective (PMWC) and freeze-dried (PF) pineapple powder mixed with chhana in 1:4 ratio were used to prepare the pineapple fortified rasgulla and coded as PP, PH, PMW, PMWC and PF, respectively. Pineapple (Ananas comosus) was chosen mainly due to its high amount of bioactive components, which reduce the rate of deterioration along with value addition purpose. The study aims to observe the effect of period of storage over 0-50 hours at room temperature (25±2°C) on casein ball (rasgulla) samples (fortified using differently dried pineapple), based on different physicochemical parameters such as phenolic content, antioxidant activity, colour change, hardness and sensory analysis. With the progress in storage time, the colour difference and hardness of all the rasgulla samples also increased and on the other hand, the total polyphenol content (TPC) and DPPH activity values decreased. The addition of differently dried pineapple powder to rasgulla helped to increase the TPC and DPPH scavenging activity, TPC and DPPH both increased by 3.5 fold and 5 fold respectively for PMWC (Microwave convective dried pineapple rasgulla). Also, hardness was decreased by 8.07 % in PMWC than NR (Normal rasgulla).Least colour difference was observed for PP (Pineapple pulp rasgulla) after 50 hours of storage. Significant changes on different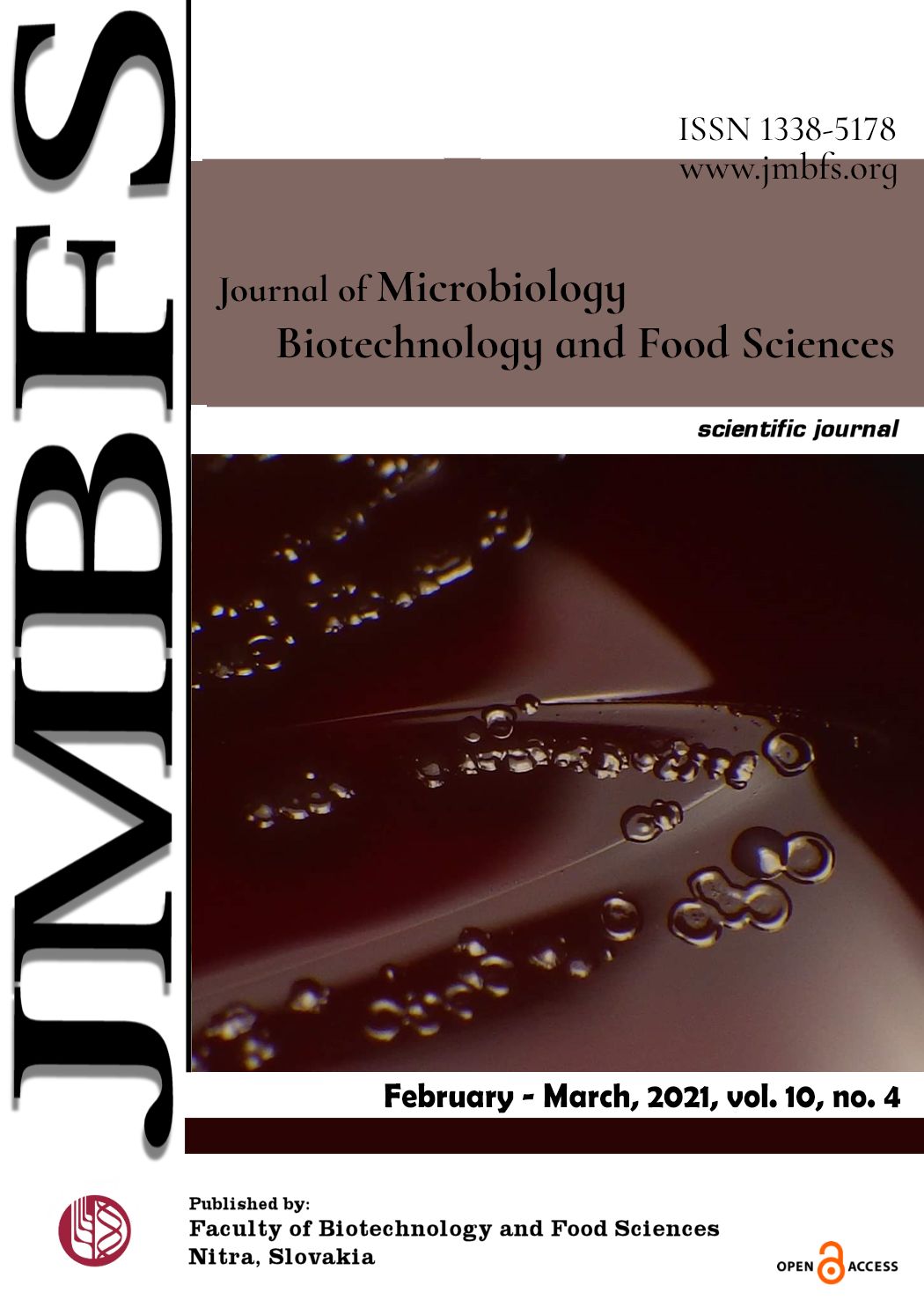 Downloads
License
Copyright (c) 2021 Journal of microbiology, biotechnology and food sciences
This work is licensed under a Creative Commons Attribution-NoDerivatives 4.0 International License.