PHYSICOCHEMICAL AND SENSORY CHARACTERISTICS OF KASHK AS INFLUENCED BY QUINOA FLOUR ADDITION
Keywords:
Quinoa, Viscosity, Kashk, Lysin depletion
Abstract
The current work was aimed to study the application of quinoa flour in the production of kashk, fermented dairy product and the resulting physicochemical and sensory properties. Three kashk samples were formulated with quinoa flour (1,2 and 3)%. Pretreatment of the kashk samples with quinoa flour had significantly increased the viscosity (from 4040 to 4127 cP), acidity value (increased 0.3) and reduced the syneresis of the samples (P < 0.05). Concerning color, no significant changes were observed in the "b" and "L" values in all the samples which remained constant following 60 days of storage whereas an increase in the "a" value was observed upon supplementation of quinoa flour (from -3.00 ± 0.50 to -0.11 ± 0.51). Sensory analysis revealed that increasing the quinoa concentration increased consistency but decreased flavor. Scanning electron micrographs revealed that the denser microstructure was seen in kashk containing quinoa flour. This could suggest that quinoa flour could be used to improve the microstructure of the kashk. Moreover, adding quinoa flour to kashk could compensate lysine depleted in the kashk thermal process. These results indicated that kashk supplementation with quinoa flour could be suggested as an effective means to improve the functional properties of kashk.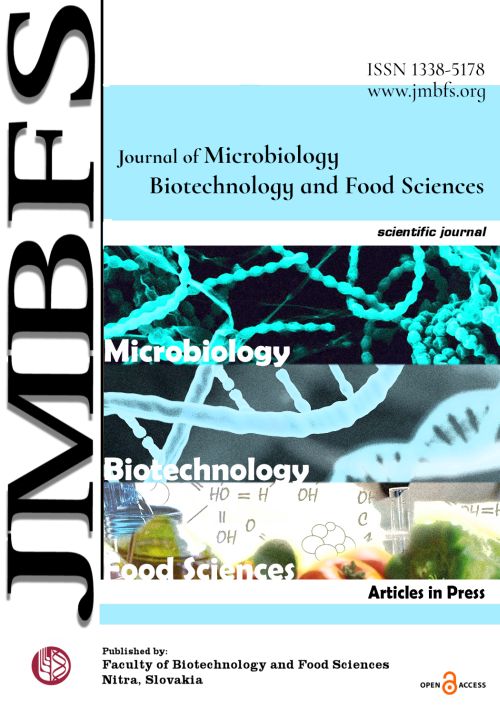 Downloads
How to Cite
Sekhavatizadeh, S. S., Mirzaee, N. ., Golmakani, M.-T., & Hosseinzadeh, S. . (2021). PHYSICOCHEMICAL AND SENSORY CHARACTERISTICS OF KASHK AS INFLUENCED BY QUINOA FLOUR ADDITION. Journal of Microbiology, Biotechnology and Food Sciences, e3438. https://doi.org/10.15414/jmbfs.3438
License
Copyright (c) 2021 Seyed Saeed Sekhavatizadeh, Najmeh Mirzaee, Mohammad-Taghi Golmakani, Saeid Hosseinzadeh
This work is licensed under a Creative Commons Attribution-NoDerivatives 4.0 International License.
Received 2020-07-13
Accepted 2021-07-12
Online Published 2021-11-12