THE AMINO ACIDS CONTENT IN GRAPE BY-PRODUCTS FROM SLOVAKIA AND AUSTRIA
Keywords:
amino acids, grape bunch, grape pomace, grape stem
Abstract
The aim of the experiment was to determine the amino acid content in 3 grape varieties by-products (bunch, pomace, stem) from Austria (AT) and Slovakia (SK). In total, 54 samples from 3 varieties Zweigelt (ZG), Pinot Blanc (PB) and Green Veltliner (GV) white skinned from 6 different locations (Nitra and Vienna wine region) of Vitis vinifera sp. were analysed. In each variety the amino acids composition was determined for the whole grape (bunch) and by-products of wine industry (pomace, stems). Samples of grape by-products were freeze dried, homogenized and analysed for amino acids concentration using amino acid analyzer AAA 400 (Ingos, Prague). Descriptive statistics (means, standard error of mean, minimum maximum), differences between varieties (Tukey test, p < 0.05) using One-way ANOVA and differences between the countries with independent samples T-test (p < 0.05) by IBM SPSS v. 20.0 were generated. After the amino acid analysis in grape bunch, pomace and stem in general the highest content of glutamic and aspartic acid was found. However, the grape pomace amino acid content is highly variable and statistically different between the varieties and countries. In contrary, lower variability in amino acids content between the varieties was found in grape stem. However, similar pattern in amino acids with the lowest content between the countries and varieties in grape by-products was observed. Finally, low content of Cysteine, Methionine, Histidine and Proline was found.
Downloads
Download data is not yet available.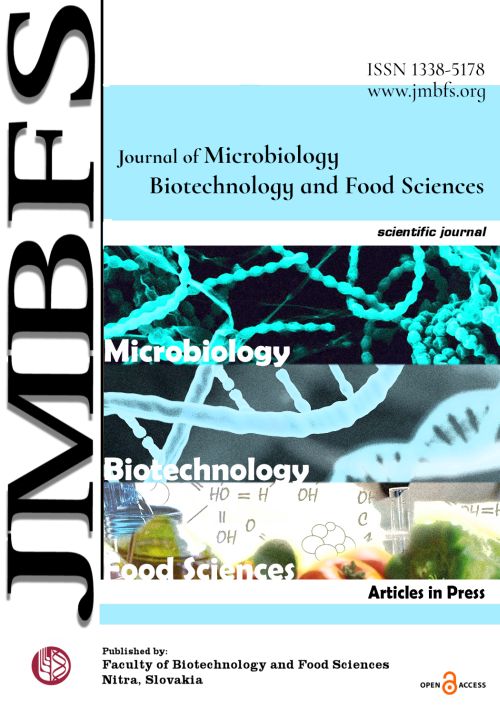 Downloads
How to Cite
Hanusovsky, O., Galik, B., Kollathova, R., Biro, D., Simko, M., Juracek, M., Rolinec, M., Zabransky, L., Philipp, C., Puntigam, R., Slama, J., & Gierus, M. (2023). THE AMINO ACIDS CONTENT IN GRAPE BY-PRODUCTS FROM SLOVAKIA AND AUSTRIA. Journal of Microbiology, Biotechnology and Food Sciences, e3477. https://doi.org/10.55251/jmbfs.3477
License
Copyright (c) 2023 Ondrej Hanusovsky
This work is licensed under a Creative Commons Attribution 4.0 International License.
All papers published in the Journal of Microbiology, Biotechnology and Food Sciences  are published under a CC-BY licence (CC-BY 4.0). Published materials can be shared (copy and redistribute the material in any medium or format) and adapted (remix, transform, and build upon the material for any purpose, even commercially) with specifying the author(s).