CONSUMER PREFERENCE STUDY ON COMBINED ULTRASOUND AND SODIUM HYPOCHLORITE TREATED FRESHCUT KIWIFRUITS COATED WITH CHITOSAN USING THE FUZZY LOGIC APPROACH
Sensory study of chitosan coated fresh-cut kiwi fruits
Keywords:
Fresh-cut kiwifruits,, Ultrasound,, sodium hypochlorite,, chitosan-coating,, fuzzy logic sensory approach
Abstract
Fresh cut kiwi fruits are gaining popularity among consumers due to increased nutrition, health, and convenience. In this study ultrasound treated fresh cut kiwifruit slices were coated with different concentrations (0.6, 0.8, and 1%) of chitosan. Sensory evaluation was conducted in linguistic terms for the kiwifruit slices with a panel of 15 well-trained judges to understand the consumer preference. The linguistic approach was analysed and decoded using the fuzzy logic modeling approach to find the best sample and quality attribute responsible for consumer preference. The slices with the highest defuzzified scores were obtained for the 1% chitosan-coated sample. Ranking of kiwifruit slices was based on defuzzified scores was S1>S2>S3>S4, while ranking of the quality attributes was smell>taste>color>texture. Therefore, the fuzzy logic modeling could be a practical approach for finding the consumer preference of fresh cut kiwifruits, thus increasing product marketability.
Downloads
Download data is not yet available.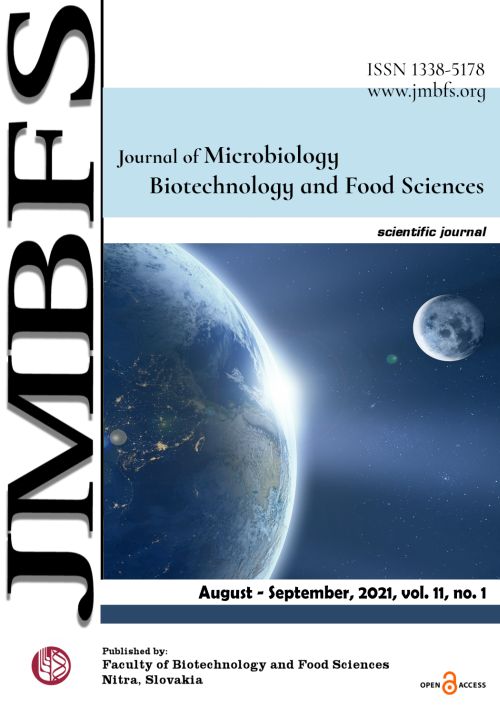 Downloads
How to Cite
vivek, kambhampati, Singh, S. S., Sasikumar, R. ., & Sami, R. . (2021). CONSUMER PREFERENCE STUDY ON COMBINED ULTRASOUND AND SODIUM HYPOCHLORITE TREATED FRESHCUT KIWIFRUITS COATED WITH CHITOSAN USING THE FUZZY LOGIC APPROACH: Sensory study of chitosan coated fresh-cut kiwi fruits. Journal of Microbiology, Biotechnology and Food Sciences, 11(1), e4054. https://doi.org/10.15414/jmbfs.4054
License
Copyright (c) 2021 Journal of microbiology, biotechnology and food sciences
This work is licensed under a Creative Commons Attribution-NoDerivatives 4.0 International License.
Received 2020-12-08
Accepted 2021-02-24
Online Published 2021-08-01