EVALUATION OF ANTIMICROBIAL POTENTIAL OF DIFFERENT COMMERCIAL GRAPEFRUIT SEED EXTRACTS
Keywords:
grapefruit seed extract, agar well diffusion, MIC, MBC, antibacterial, antifungal, multidrug-resistant strains
Abstract
Extracts made from grapefruit (Citrus x paradisi Macfad.) seed are recognized for strong bactericidal and fungicidal properties. Bacterial resistance to antibiotics is an emerging issue, and therefore isolation and characterization of novel antimicrobials of natural origin represent the real challenge for investigators worldwide. The aim of this study was to evaluate the antimicrobial activity of three commercial GSE (Grapefruit Seed Extract) products against six bacterial and one fungal strain, through the agar well diffusion method, determination of minimum inhibitory concentration (MIC), minimum bactericidal concentration (MBC), and minimum fungicidal concentration (MFC). Obtained results indicate strong antimicrobial effects of investigated extracts, with different microbial susceptibility, including the multidrug-resistant (MDR) bacteria. The highest inhibitory potential is conducted for Citrofit®, while CitroBiotic® has shown the weakest effect. These results are in concordance with the obtained MIC and MBC values. It could be concluded that frequent use of commercial GSEs is justified due to their powerful antimicrobial activity. These findings are promising in terms of utilization of natural products as novel antimicrobial agents.
Downloads
Download data is not yet available.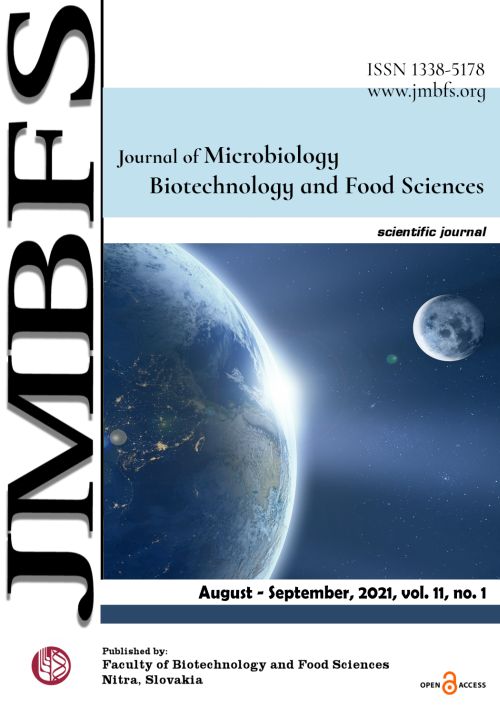 Downloads
How to Cite
Saric, B., Mahmutović-Dizdarević, I., Gutalj, A., & Jerković-Mujkić, A. (2021). EVALUATION OF ANTIMICROBIAL POTENTIAL OF DIFFERENT COMMERCIAL GRAPEFRUIT SEED EXTRACTS. Journal of Microbiology, Biotechnology and Food Sciences, 11(1), e4213. https://doi.org/10.15414/jmbfs.4213
License
Copyright (c) 2021 Journal of microbiology, biotechnology and food sciences
This work is licensed under a Creative Commons Attribution-NoDerivatives 4.0 International License.
Received 2021-01-13
Accepted 2021-02-15
Online Published 2021-08-01