VIRTUAL SCREENING OF NATURAL ALPHA-GLUCOSIDASE INHIBITOR FROM ALPINIA GALANGA BIOACTIVE COMPOUNDS AS ANTI-DIABETIC CANDIDATE
ANTI-DIABETIC ACTIVITY OF ALPINIA GALANGA
Keywords:
Alpha-glucosidase, Alpinia galanga, galangin, glucose toxicity, T2DM
Abstract
Glucose toxicity become serious risk factor of type 2 diabetes mellitus. Multiple complication can be caused of the abnormal condition of glucose level in blood. Thus, managing the plasma glucose is one of the strategy to minimize the negative effects of type 2 diabetes mellitus. In this present study, we aimed to virtually evaluate the bioactive compounds from Alpinia galanga as inhibitor agent against alpha-glucosidase, which was known as carbohydrate catabolic enzyme. The 2D structure of ligands were retrieved from PubChem database (pubchem.ncbi.nlm.nih.gov/) and were evaluated based on Lipinski rule of five for ensured the druglike-ness standard, while the sequence and 3D structure of target protein, alpha-glucosidase, was retrieved from UniProt database (https://www.uniprot.org/) and was modelled through SWISS-MODEL (swissmodel.expasy.org/). All ligands used in this study then underwent optimization prior to molecular docking and analyzing procedures. According to our prediction results, we found that galangin and 1's-1'-acetoxychavicol acetate which known as bioactive compounds found in A. galanga have significant potency as inhibitor agents against the alpha-glucosidase due to its binding affinity scores and other physicochemical properties compared to the anti-diabetic drug, mignitol. Thus, from this finding, we have recent starting point to expand the potency of these bioactive compounds, especially for inhibiting the alpha-glucosidase as the novel strategy to reduce the poor prognosis of type 2 diabetes mellitus.
Downloads
Download data is not yet available.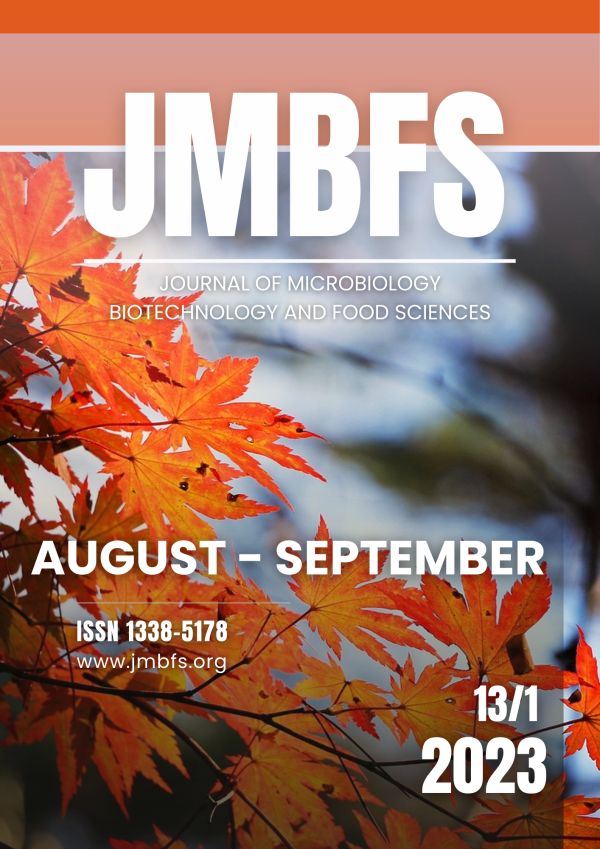 Downloads
How to Cite
Putra, W. E., Sustiprijatno, Hidayatullah, A., Widiastuti, D., Heikal, M. F., & Salma, W. O. (2023). VIRTUAL SCREENING OF NATURAL ALPHA-GLUCOSIDASE INHIBITOR FROM ALPINIA GALANGA BIOACTIVE COMPOUNDS AS ANTI-DIABETIC CANDIDATE: ANTI-DIABETIC ACTIVITY OF ALPINIA GALANGA . Journal of Microbiology, Biotechnology and Food Sciences, 13(1), e4353. https://doi.org/10.55251/jmbfs.4353
License
Copyright (c) 2022 Wira Eka Putra
This work is licensed under a Creative Commons Attribution 4.0 International License.
All papers published in the Journal of Microbiology, Biotechnology and Food Sciences  are published under a CC-BY licence (CC-BY 4.0). Published materials can be shared (copy and redistribute the material in any medium or format) and adapted (remix, transform, and build upon the material for any purpose, even commercially) with specifying the author(s).