OXIDATIVE STABILITY OF SOYBEAN AND SUNFLOWER OILS ENRICHED WITH PIGMENT EXTRACTS OF THE BROWN SEAWEED PHYLLARIA RENIFORMIS
Stabilisation of edible oils by alga pigments
Keywords:
Oxidative stability, Edible oils, Brown seaweed, Phyllaria reniformis, Pigments
Abstract
The incorporation of bioactive additives such as natural pigments in food products offers many nutritional advantages, associated with functional properties in particular antioxidant effects. The aim of this work was to study the effect of adding natural pigments extracted from the brown seaweed Phyllaria reniformis on the oxidative stability of commercially available soybean and sunflower oils.
Phyllaria reniformis pigment extract (200 and 1000 ppm) was dissolved in the two edible oils, and in comparison, a synthetic antioxidant butylated hydroxyanisole (BHA) was added. Experimental results showed that the addition of pigment extract had no significant effect on the quality parameters of vegetable oils: Free acidity (FA) and peroxide value (PV). Carotenoids were improved 2 and 1.5 times when adding 200 ppm of pigment extract to soybean and sunflower oils, respectively.  While, when adding 1000 ppm, carotenoids were improved 3 times in comparison to the virgin oils. Similarly, chlorophylls contents in enriched sunflower oil with 200 or 1000 ppm of pigment extract increased 2 and 3 times in comparison to the control sample, however, in enriched soybean oil, this increase was interestedly higher achieving 10 and 33 times. Moreover, colour coordinates (a*, b* and L*) in enriched oils changed to become greener and yellower. Antioxidant activities were improved compared to the control oils. The addition of pigment extract or BHA to soybean oil increased significantly (p≤0.05) its oxidative stability. Thus, these pigment extracts could be recommended as a potent source of natural antioxidants replacing synthetic ones for the protection of edible oils against oxidation.
Downloads
Download data is not yet available.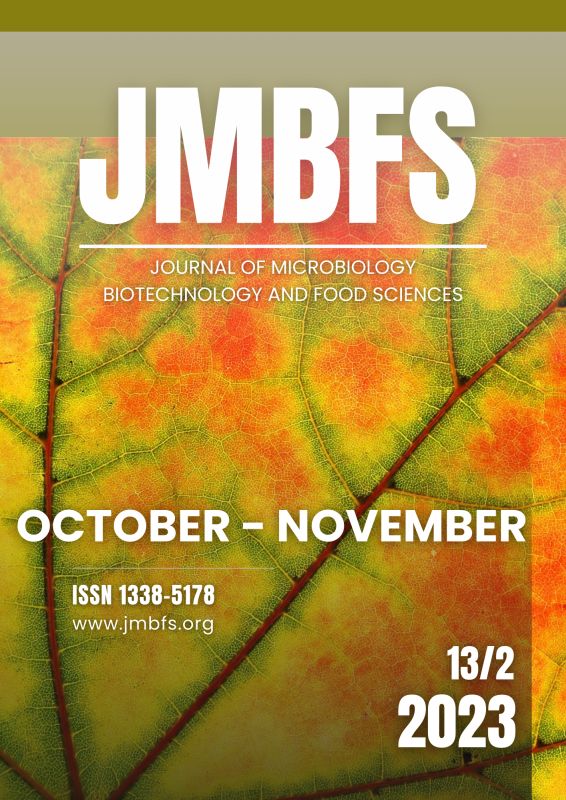 Downloads
How to Cite
GHALIAOUI, N., Hazzit, M., Seridi , H., & Mokrane, H. (2023). OXIDATIVE STABILITY OF SOYBEAN AND SUNFLOWER OILS ENRICHED WITH PIGMENT EXTRACTS OF THE BROWN SEAWEED PHYLLARIA RENIFORMIS: Stabilisation of edible oils by alga pigments. Journal of Microbiology, Biotechnology and Food Sciences, 13(2), e9290. https://doi.org/10.55251/jmbfs.9290
License
Copyright (c) 2022 NORA GHALIAOUI, Mohamed Hazzit, Halima Seridi , Hind Mokrane
This work is licensed under a Creative Commons Attribution 4.0 International License.
All papers published in the Journal of Microbiology, Biotechnology and Food Sciences  are published under a CC-BY licence (CC-BY 4.0). Published materials can be shared (copy and redistribute the material in any medium or format) and adapted (remix, transform, and build upon the material for any purpose, even commercially) with specifying the author(s).