UTILIZATION OF TANNIC ACID BY BACTERIA IN TROPICAL AQUATIC AND SOIL ENVIRONMENTS
Keywords:
Lagoon, Mangrove forest soil, Biodegradation, Klebsiella pneumoniae, Pantoea cypripedii , gallotannin
Abstract
Two bacterial strains designated as EO1 and EO2, were isolated by selective culture enrichment from Lagos lagoon water and mangrove soil samples. They were subsequently identified based on morphological and physiological characteristics as well as 16S rRNA gene sequence analysis as Klebsiella pneumoniae strain EO1 and Pantoea cypripedii strain EO2 with accession numbers KX355800 and KX355801. Microbial growth assessment was performed in triplicates under aerobic batch conditions. The two isolates were capable of utilizing tannic acid, gallic acid, glucose, succinate, benzoic acid, and protocatechuic acid as sole carbon sources. Growth experiments along with enzymatic studies indicated that the organisms hydrolyzed tannic acid through gallic acid and pyrogallol as metabolic intermediates. The organisms have potential for the elimination of polyphenolic pollutants such as gallotannins associated with wood residues in Nigerian estuarine environments.
Downloads
Download data is not yet available.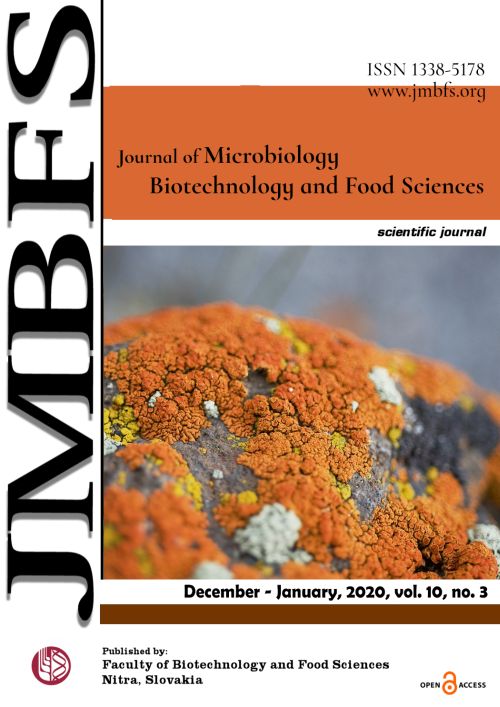 Downloads
How to Cite
Olumuyiwa, E., Amund, O., Ilori, M., & Schmidt, S. (2020). UTILIZATION OF TANNIC ACID BY BACTERIA IN TROPICAL AQUATIC AND SOIL ENVIRONMENTS. Journal of Microbiology, Biotechnology and Food Sciences, 10(3), 335–343. https://doi.org/10.15414/jmbfs.2020.10.3.335-343
License
Copyright (c) 2020 Journal of microbiology, biotechnology and food sciences
This work is licensed under a Creative Commons Attribution-NoDerivatives 4.0 International License.
Received 2019-04-16
Accepted 2020-01-31
Online Published 2020-12-01