IMMOBILIZATION OF PROBIOTIC CULTURES WITH ENTEROSORBENTS BASED ON HIGHLY DISPERSED SILICA
Keywords:
probiotics, high-dispersed silica, survival, fermented milk product, immobilization
Abstract
An important effectiveness factor of probiotic therapy is the survival of cells in the gastrointestinal tract and their integration into the intestinal biofilm. The possibility of creating complex preparations of enterosorbent-probiotic on the basis of dry highly dispersed silica and methyl-silicic acid hydrogel has been investigated. The survival of Streptococcus thermophilus and Bifidobacterium longum monocultures in the composition of lyophilized complex preparations, in particular under the simulated conditions of the gastrointestinal tract, was studied.
The rheological and biotechnological parameters of yoghurt fermented with S. thermophilus IMV B-7249 strain immobilized in a hydrogel were evaluated. It was determined that the functional state of the culture immobilized in highly dispersed silica remained corresponded to the proper technological parameters of sour-milk yoghurt, and the effective viscosity and stability of the product increased. This makes it possible to recommend such a preparation for a use not only for enteral use but also for the production of fermented milk products.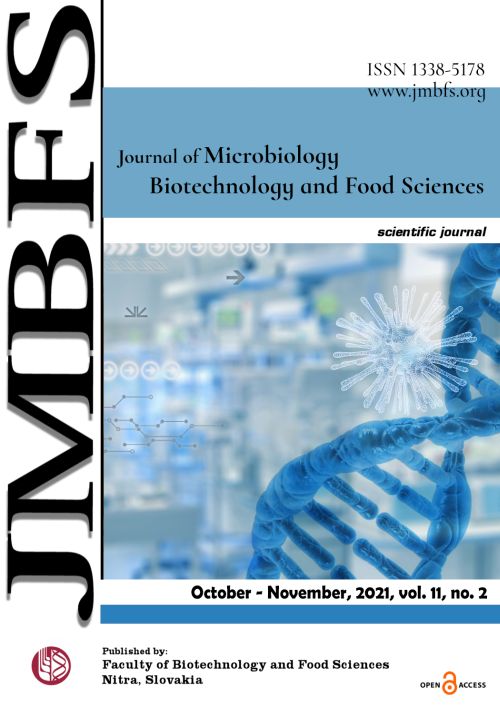 Downloads
How to Cite
Kryzhska , T., Danylenko, S. ., Romanchuk, I. ., Marynchenko, L. ., Nizhelska, O. ., Potemska, O. ., Khonkiv, M. ., & Kyseliuk, D. . (2021). IMMOBILIZATION OF PROBIOTIC CULTURES WITH ENTEROSORBENTS BASED ON HIGHLY DISPERSED SILICA. Journal of Microbiology, Biotechnology and Food Sciences, 11(2), e3334. https://doi.org/10.15414/jmbfs.3334
License
Copyright (c) 2021 Tanya Kryzhska , Svetlana Danylenko, Irina Romanchuk, Lolita Marynchenko, Olena Nizhelska, Oksana Potemska, Myroslav Khonkiv, Daria Kyseliuk
This work is licensed under a Creative Commons Attribution-NoDerivatives 4.0 International License.
Received 2020-07-21
Accepted 2021-04-09
Online Published 2021-10-01