DIGESTION BY SALIVA, SIMULATED GASTRIC AND SMALL INTESTINAL JUICES AND IN VITRO FERMENTATION BY HUMAN GUT MICROBIOTA OF POLYSACCHARIDES FROM CICER ARIETINUM L. HULLS
Chickpea hull polysaccharide effect on human gut
Keywords:
Cicer arietinum L., Polysaccharide, Gut microbiota, short chain fatty acids, In vitro fermentation
Abstract
In the present study, digestion and fermentation (in vitro) of chickpea hull (CHPS) polysaccharides were analyzed, and CHPS effects were determined on gut microbes by using high-throughput sequencing technology. The results revealed that saliva, artificial gastric, and small intestinal juices had no effect on CHPS, but after fermentation of CHPS by human gut microbiota the molecular weight, reducing sugar and carbohydrate content decreased significantly. CHPS significantly modulated the gut microbial composition reflecting the potential to reduce obesity risk. Moreover, the decrease in pH was observed in the fermentation system, while short chain fatty acids (SCFAs) were significantly increased. These results indicate that CHPS have potential and could be utilized as functional food components for the improvement of human gut health.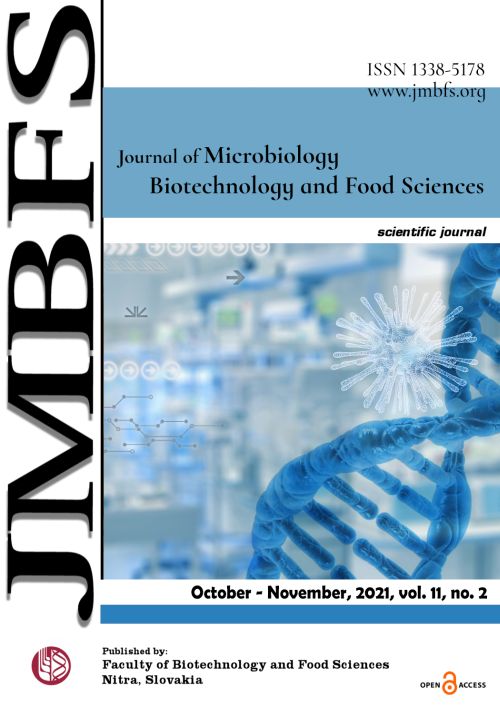 Downloads
How to Cite
Akhtar, H. M. S., Abdin, M. ., Ahmed, S. ., & Aslam, F. . (2021). DIGESTION BY SALIVA, SIMULATED GASTRIC AND SMALL INTESTINAL JUICES AND IN VITRO FERMENTATION BY HUMAN GUT MICROBIOTA OF POLYSACCHARIDES FROM CICER ARIETINUM L. HULLS: Chickpea hull polysaccharide effect on human gut. Journal of Microbiology, Biotechnology and Food Sciences, 11(2), e3966. https://doi.org/10.15414/jmbfs.3966
License
Copyright (c) 2021 Hafiz Muhammad Saleem Akhtar, Mohamed Abdin, Shakeel Ahmed, Farhan Aslam
This work is licensed under a Creative Commons Attribution-NoDerivatives 4.0 International License.
Received 2020-11-15
Accepted 2021-04-16
Online Published 2021-10-01