CLONING, SEQUENCING AND IN SILICO ANALYSIS OF AN AMYLASE OF STREPTOCOCCUS LUTETIENSIS RB4 ISOLATED FROM BOVINE RUMEN
Amylase of Streptococcus lutetiensis RB4
Keywords:
Amylase, Glycosyl hydrolase family 13, Phylogenetics, Streptococcus
Abstract
Streptococcus lutetiensis RB4 was isolated from the rumen of beef cattle. An amylase gene from the isolate RB4 was cloned and expressed in Escherichia coli DH5α by using pGEMT-Easy vector system.  S. lutetiensis is a member of S. bovis / S. equinus complex.  Sequence characterization of the cloned gene AmySL displayed a 1640 bp long with an open reading frame coding 298 amino acids. AmySL has a molecular mass of 33.456 Da which was considerably smaller. The optimal pH and temparature for AmySL werepH 6.5 and 40oC, respectively. AmySL hydrolyzed starch to maltose and other oligosaccarides as the final products. Random coils (37.25%) and α-helix (34.23%) were dominated the secondary structure of AmySL. S. lutetiensis RB4 grouped together with S. macedanicus and S. pasterurianus according to phylogenetics analysis. This research identified some features of the amylase gene isolated from S. lutetiensis. Although S. bovis, which has an important place in amylolytic bacteria, is known to be an important factor in ruminal acidosis, the number of studies on the amylases of the SBSEC group is surprisingly low. Therefore, this study will add to our understanding of the enzymes belonging to the SBSEC complex involved in the breakdown of rumen starch.
Downloads
Download data is not yet available.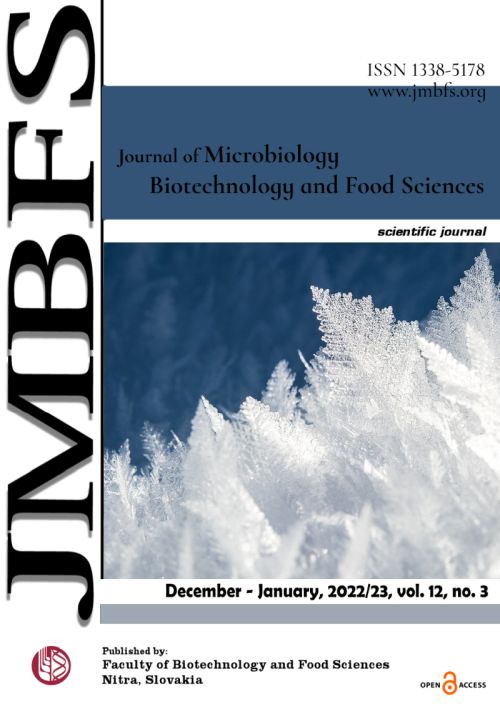 Downloads
How to Cite
Ekiz , D. O. ., Comlekcioglu, U. ., & AYGAN, A. (2022). CLONING, SEQUENCING AND IN SILICO ANALYSIS OF AN AMYLASE OF STREPTOCOCCUS LUTETIENSIS RB4 ISOLATED FROM BOVINE RUMEN: Amylase of Streptococcus lutetiensis RB4. Journal of Microbiology, Biotechnology and Food Sciences, 12(3), e5940. https://doi.org/10.55251/jmbfs.5940
License
Copyright (c) 2022 Ashabil AYGAN
This work is licensed under a Creative Commons Attribution 4.0 International License.
All papers published in the Journal of Microbiology, Biotechnology and Food Sciences  are published under a CC-BY licence (CC-BY 4.0). Published materials can be shared (copy and redistribute the material in any medium or format) and adapted (remix, transform, and build upon the material for any purpose, even commercially) with specifying the author(s).