DYNAMICS OF LACTIC ACID BACTERIA DURING PASTIRMA PRODUCTION
Keywords:
dry-cured meat products, (GTG)5 fingerprinting, lactic acid bacteria dynamics, Latilactobacillus sakei, pastirma
Abstract
Pastirma is a traditional dry-cured meat product of Turkey, produced from whole beef or muscles of water buffalo. Studies on the microbial diversity of pastirma generally focus on the final product. In this study, we aimed to determine the lactic acid bacteria (LAB) dynamics during the pastirma production process. Samples were obtained from a commercial producer at four different production stages (after curing, after first drying, before çemen coating, and final product). During the production, the pH level slightly increased from ~5.6 to 5.8, while the water activity (aw) decreased to ~0.86 until çemen addition, after which it increased to 0.89. Total mesophilic aerobic bacteria (TMAB) and LAB counts increased during the production stages reaching 7.15 and 6.64 log cfu/g, respectively. The most dominant LAB for all stages was Latilactobacillus sakei group with a relative abundance (RA) of 52-73% RA. Weissella species W. viridescens and W. halotolerans followed the L. sakei group. Phylogenetic analysis of 16S rRNA gene indicated that all L. sakei isolates were of subsp. carnosus, however, (GTG)5 fingerprinting demonstrated a high degree of intraspecies variation. Moreover, fingerprinting analysis showed that L. sakei isolates of specific fingerprinting groups were selected towards the final production stages. The present study elucidates how the LAB diversity changes both at the species and intraspecies level during pastirma production.
Downloads
Download data is not yet available.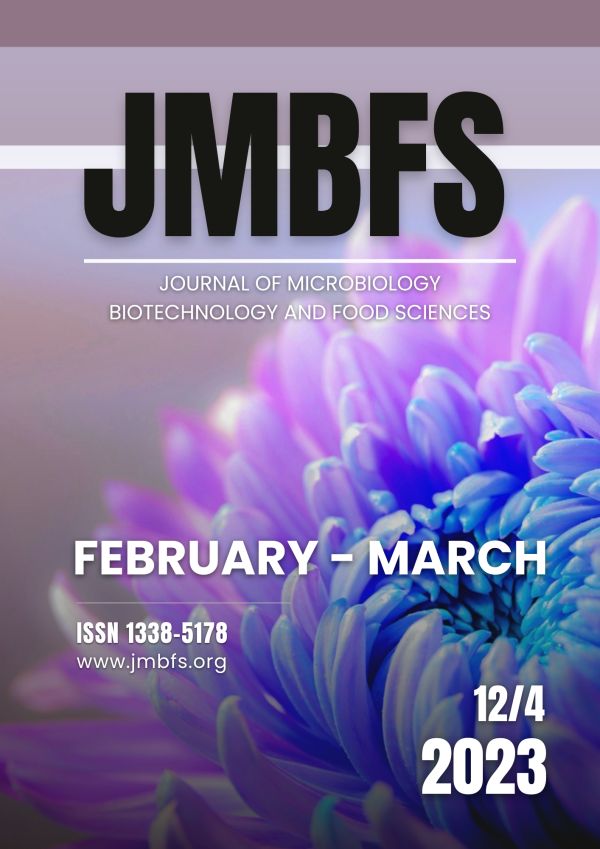 Downloads
How to Cite
Metin, B., & Toy, A. (2022). DYNAMICS OF LACTIC ACID BACTERIA DURING PASTIRMA PRODUCTION. Journal of Microbiology, Biotechnology and Food Sciences, 12(4), e9071. https://doi.org/10.55251/jmbfs.9071
License
Copyright (c) 2022 Banu Metin, Alya Toy
This work is licensed under a Creative Commons Attribution 4.0 International License.
All papers published in the Journal of Microbiology, Biotechnology and Food Sciences  are published under a CC-BY licence (CC-BY 4.0). Published materials can be shared (copy and redistribute the material in any medium or format) and adapted (remix, transform, and build upon the material for any purpose, even commercially) with specifying the author(s).