SCREENING OF VARIOUS PROMOTERS FOR INCREASED PROTEIN EXPRESSION
Testing promoters for expression of proinsulin
Keywords:
E. coli, IPTG: isopropyl β – D – 1 – thiogalactopyranoside, cstA: Carbon starvation promoter, phoA: Alkaline phosphatase, IB's: Inclusion bodies, HCP's: Host Cell Proteins
Abstract
One of the essential elements in the in expression of recombinant proteins in Eshecichia coli is a promoter. It is a sequence of DNA that drives the expression of recombinant protein production. Along with the choice of promoter a number of factors such as protein parameters, induction temperature, inducer, induction conditions and protein solubility play a major role in deciding the yield of target protein. In the present study, we have evaluated the strength of three different promoters (phoA, cstA and pLpR) and compared it with one of the strong promoters known, T7. A vector with these three promoters were constructed for expression of FCTRX 1 – 15 tagged proinsulin gene. Protein expressed was isolated, solubilized and purified using chromatography. Yields of proinsulin obtained from different promoter driven constructs was compared and it was observed that the inclusion bodies (IB) yield obtained from temperature inducible pLpR system was comparable with T7 system and this can be further increased by optimizing the fermentation conditions.
Downloads
Download data is not yet available.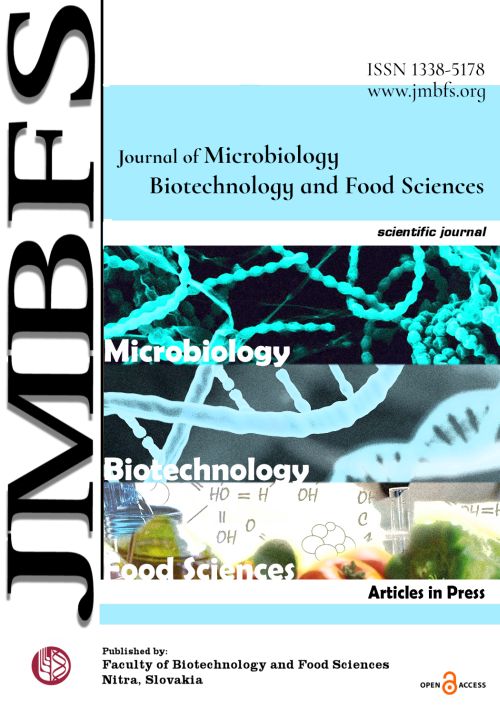 Downloads
How to Cite
B NATARAJ, N., & Sudhakaran, R. (2023). SCREENING OF VARIOUS PROMOTERS FOR INCREASED PROTEIN EXPRESSION: Testing promoters for expression of proinsulin. Journal of Microbiology, Biotechnology and Food Sciences, e9863. https://doi.org/10.55251/jmbfs.9863
License
Copyright (c) 2022 NANDINI B NATARAJ, Raja Sudhakaran
This work is licensed under a Creative Commons Attribution 4.0 International License.
All papers published in the Journal of Microbiology, Biotechnology and Food Sciences  are published under a CC-BY licence (CC-BY 4.0). Published materials can be shared (copy and redistribute the material in any medium or format) and adapted (remix, transform, and build upon the material for any purpose, even commercially) with specifying the author(s).