BIOCHEMICAL, RHEOLOGICAL, and SENSORY CHARACTERISTICS of NON-FAT SET YOGURT SUPPLEMENTED with A MIXTURE of HYDROCOLLOIDS
Characteristics of Non-fat Yogurt Supplemented with Hydrocolloids
Keywords:
Fat replacer, Hydrocolloids, Rheological properties, Syneresis, Yogurt
Abstract
Side effects of fat intake and consumers' awareness have forced the food industry to produce healthier food. In recent years, non-fat yogurt has increasingly been consumed all over the world. In this study, the effect of adding a mixture of inulin, whey protein isolate, modified starch with different levels (0.3, 0.5 and, 1%) and gelatin (0.2%) on biochemical (pH, titratable acidity (TA), and Redox potential), rheological, and sensory properties of non-fat set yogurt was investigated. The samples containing higher levels of whey protein were better treatments regarding biochemical, sensory and rheological properties. The highest syneresis was observed in control yogurts and the samples with 1% inulin, whereas no syneresis was observed in samples containing 1% starch or 1% whey protein. Overall, the yogurts containing 1% whey proteins, 0.5% modified starch, 0.3% inulin, and 0.2% gelatin showed the most desirable characteristics of non-fat yogurt.
Downloads
Download data is not yet available.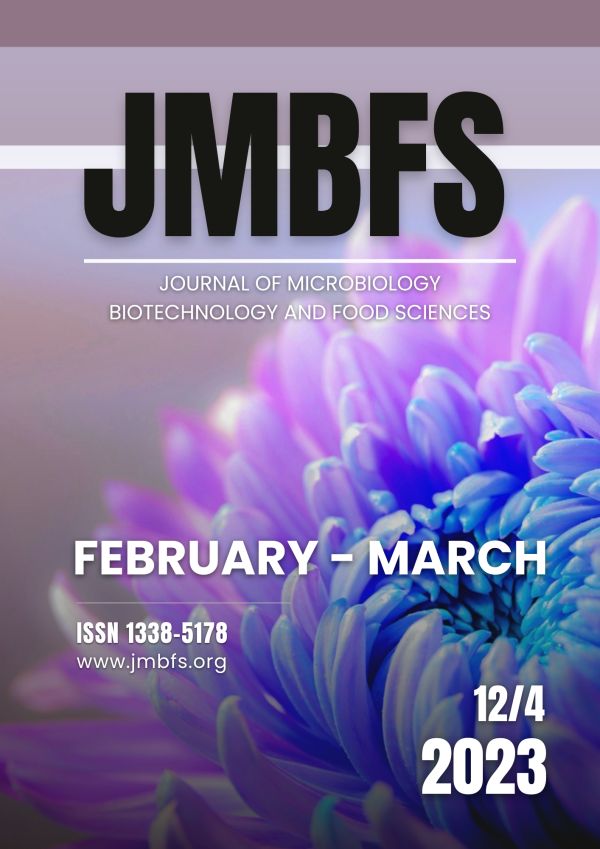 Downloads
How to Cite
Khodadadi, E., Khorshidian, N., Mashayekh, M., Hosseini, H., Mortazavian, A. M., & Ebrahimi, A. (2022). BIOCHEMICAL, RHEOLOGICAL, and SENSORY CHARACTERISTICS of NON-FAT SET YOGURT SUPPLEMENTED with A MIXTURE of HYDROCOLLOIDS: Characteristics of Non-fat Yogurt Supplemented with Hydrocolloids. Journal of Microbiology, Biotechnology and Food Sciences, 12(4), e5706. https://doi.org/10.55251/jmbfs.5706
License
Copyright (c) 2022 amir mohammad mortazavian, Elham Khodadadi, Nasim Khorshidian, Morteza Mashayekh, Hedayat Hosseini, Arezoo Ebrahimi
This work is licensed under a Creative Commons Attribution 4.0 International License.
All papers published in the Journal of Microbiology, Biotechnology and Food Sciences  are published under a CC-BY licence (CC-BY 4.0). Published materials can be shared (copy and redistribute the material in any medium or format) and adapted (remix, transform, and build upon the material for any purpose, even commercially) with specifying the author(s).