IMPORTANCE OF PROBIOTICS IN THE PREVENTION AND TREATMENT OF COVID-19
Keywords:
COVID-19, Probiotic, Microbiota, Coronavirus, Immunomodulation
Abstract
The novel severe acute respiratory syndrome COVID-19 outbreak is brought on by the SARS-CoV-2 coronavirus. Taking into account the criticism that SARS-CoV-2 has received on a global scale, efficient preventive actions and treatment for COVID-19 would be an urgent need. New strategies were developed based on immune responses. The immunomodulating properties of a few bioactive substances, minerals, and micronutrients have led to recommendations. Probiotics' therapeutic uses in COVID-19 patients were looked into in this review. A decline in the amount of various probiotic species, including Bifidobacterium and Lactobacillus, was observed in some COVID-19 patients, which may be indicative of a compromised immune system. The use of probiotics has been predominantly explored for the inhibition and management handling of gastrointestinal disorders, but other potential properties of these microorganisms have been considered for nutritional effects, inflammatory diseases, Helicobacter pylori infections, allergic diseases, and anti-tumor properties. Some investigations have revealed that these probiotics stimulate and modify innate immune responses through multiple membrane molecules that transfer signaling massages with the epithelial cells of the gut. In addition to the gut microbiota, which has been widely studied, the physiopathology of numerous respiratory illnesses is known to depend on the lung microbiota. Through microaspiration and inhalation, which bacteria, molds, and viruses can create, the healthy lung acquired its unique microbiota. Probiotic strains might be used to influence these microbiotas, contributing novel views in the managing of respiratory diseases. Returning gut microbiota has been revealed to recover resistance to virus or pathogenic invades moreover at the respiratory mucosal stages.
Downloads
Download data is not yet available.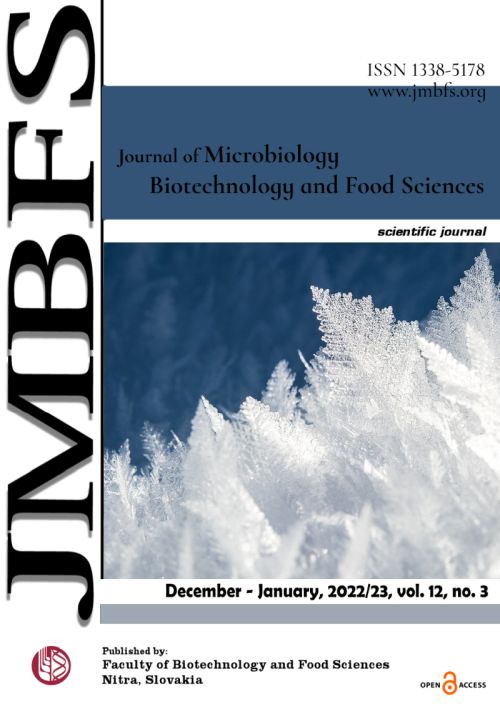 Downloads
How to Cite
Eslami , M. ., Abdolshahi, A., Emadi, A., & Yousefi, B. (2022). IMPORTANCE OF PROBIOTICS IN THE PREVENTION AND TREATMENT OF COVID-19. Journal of Microbiology, Biotechnology and Food Sciences, 12(3), e4594. https://doi.org/10.55251/jmbfs.4594
License
Copyright (c) 2022 Majid Eslami , Anna Abdolshahi, Alirea Emadi, Bahman Yousefi
This work is licensed under a Creative Commons Attribution 4.0 International License.
All papers published in the Journal of Microbiology, Biotechnology and Food Sciences  are published under a CC-BY licence (CC-BY 4.0). Published materials can be shared (copy and redistribute the material in any medium or format) and adapted (remix, transform, and build upon the material for any purpose, even commercially) with specifying the author(s).