UTILIZATION OF CDDP MARKERS IN ANALYSIS OF GENETIC VARIABILITY OF ARACHIS HYPOGAEA L.
Keywords:
Arachis hypogaea L., CDDP fingerprints, genetic polymorphism, structure analysis
Abstract
Arachis hypogaea L. – peanut (syn. groundnut) belong botanically to annual herbs, more specifically to legumes (family Fabaceae). Cultivated from is characterized as allotetraploid specie and that has a large and genome with high level of complexity as a result of natural hybridization of wild diploid species Arachis cardenasii (nn) and Arachis batizocoi. Individual analysis that are aimed to description of the genetic similarity and variability of wild and cultivated Arachis species are substantial for the knowledge of intaspecific relationships. In this study, conserved DNA-derived polymorphism technique was used to analyse genetic variability of natural genotypes of peanut. CDDP is a simple PCR based method that was proved to be efficient in the studies of plant populations polymorphism. Primers used in CDDP target conserved sequences of plant functional genes that are involved in response to abiotic and biotic stresses. Here, bulked DNA samples of twenty-one natural populations were analysed by with five CDDP primer combinations. Selected primers produced a total of 260 amplicons, among which 107 (41.2%) amplicons were polymorphic. The average number of obtained amplicons per primer was about 51.8. Amplified polymorphic fragments of analysed genotypes ranged from 13 to 33 and percentage of polymorphism ranged from 35 % to 47 %. UPGMA cluster analysis was performed on the base of prepared binary matrices and obtained clustering has grouped the analyzed peanut populations into five major groups with further subgroups. The results of CCDP fingerprinting shown, that this marker technique provide sufficient distinguishing of a wild population of Arachis hypogaea L.. Analysed genotypes of peanut were separated into different groups based on genetic diversity, however, the level of polymorphisms that detected used markers among populations of Arachis hypogaea L. was low.
Downloads
Download data is not yet available.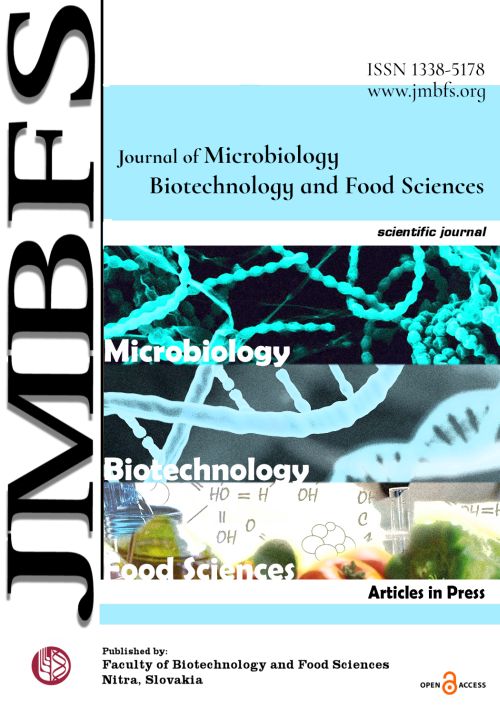 Downloads
How to Cite
Klongová, L., Kyseľ, M., Fialková, V., Fernández-Cusimamani , E., Kovacik, A., & Ziarovska, J. (2023). UTILIZATION OF CDDP MARKERS IN ANALYSIS OF GENETIC VARIABILITY OF ARACHIS HYPOGAEA L. Journal of Microbiology, Biotechnology and Food Sciences, e9884. https://doi.org/10.55251/jmbfs.9884
License
Copyright (c) 2022 Lucia Klongová, Matúš Kyseľ, Veronika Fialková, Eloy Fernández-Cusimamani , Adam Kovacik, Jana Ziarovska
This work is licensed under a Creative Commons Attribution 4.0 International License.
All papers published in the Journal of Microbiology, Biotechnology and Food Sciences  are published under a CC-BY licence (CC-BY 4.0). Published materials can be shared (copy and redistribute the material in any medium or format) and adapted (remix, transform, and build upon the material for any purpose, even commercially) with specifying the author(s).