COMPARATIVE ANALYSIS OF THE EFFECTS OF CURCUMIN AND EPICATECHIN ON THE VITALITY OF ROOSTER SPERMATOZOA
Keywords:
curcumin, epicatechin, rooster, spermatozoa, oxidative stress
Abstract
The objective of our study was to assess the effects of two selected antioxidants (curcumin - CUR and epicatechin - EPI) on the vitality of rooster spermatozoa. We used semen samples from 10 sexually mature Lohmann light roosters, which were collected from a local farm, diluted in PBS and cultured with different concentrations of CUR and EPI (1, 5, 10, 25, 50 and 100 µmol/L). Motility, membrane and acrosome integrity were analysed after 0, 2 and 24 h of in vitro culture. Sperm motility was evaluated by the computer-assisted sperm analysis (CASA). The membrane integrity was determined by a combination of eosin/nigrosin dyes, and the acrosome integrity was detected by fast green/rose bengal dyes. The data were statistically evaluated using One-way ANOVA and the Dunnet's test. The results indicate that after 0 h of cultivation all selected parameters stay unchanged. After 2 h significant differences (P<0.0001) were observed in case of the motility and membrane integrity. Following 24 h a significant (P<0.0001) preservation of motility was recorded. The level of membrane damage and acrosome integrity was significantly decreased (P<0.01). Based on our results we may conclude that protective effects of CUR and EPI on the vitality of rooster spermatozoa were observed already after 2 h. This impact was even more dominant after 24 h. CUR showed better effects at lower concentrations (1, 5, and 10 µmol/L) while EPI at higher doses (25 and 50 µmol/L). Our findings could contribute to the potential application of these antioxidants in avian reproduction technologies.
Downloads
Download data is not yet available.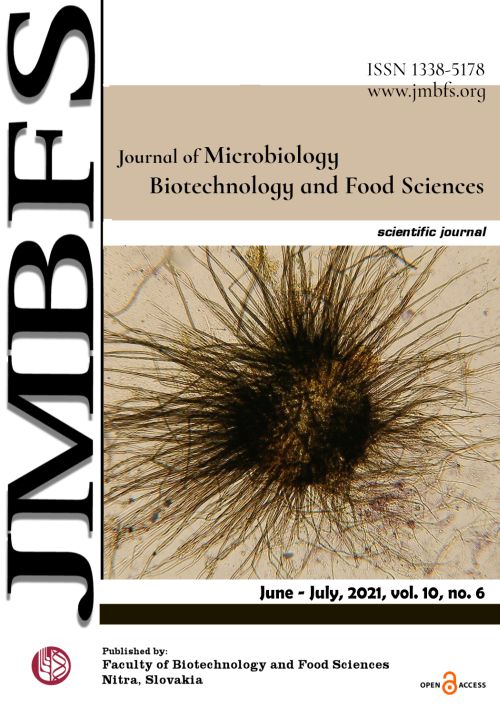 Downloads
How to Cite
Benko, F., Ďuračka, M. ., Kováč, J. ., Lukáč, N., & Tvrdá, E. . (2021). COMPARATIVE ANALYSIS OF THE EFFECTS OF CURCUMIN AND EPICATECHIN ON THE VITALITY OF ROOSTER SPERMATOZOA. Journal of Microbiology, Biotechnology and Food Sciences, 10(6), e3078. https://doi.org/10.15414/jmbfs.3078
License
Copyright (c) 2021 Filip Benko, Michal Ďuračka, Ján Kováč, Norbert Lukáč, Eva Tvrdá
This work is licensed under a Creative Commons Attribution-NoDerivatives 4.0 International License.
Received 2020-05-06
Accepted 2021-05-06
Online Published 2021-06-01