EFFECT OF ZEOLITE (CLINOPTILOLITE) ON CHEMICAL PARAMETERS OF RABBIT MEAT
Keywords:
clinoptilolite, feed, rabbit, meat, chemical composition
Abstract
This work is aimed to evaluate the effect of natural zeolite on selected parameters of the rabbit's meat chemical composition. The rabbits of the Castorex breed (n=12) were divided into two groups: Control group C (n=6) without the addition of zeolite in feed and the experimental group Z (n=6) in which animals received zeolite daily in a peroral form in concentration 0.2 g/kg of body weight. Determination of the nutritional composition of rabbit meat and analysis of individual amino acids and fatty acids was performed by the Nicolet 6700 using FT-IR method (fourier transform infrared spectroscopy) in the musculus Longissimus dorsi (MLD) and the musculus Vastus lateralis (MVL). The content of water in meat in group Z (73.630 ± 0.270 g * 100g-1) was significantly higher (P ≤ 0.05) compared to group C (72.480 ± 0.530 g * 100g-1). Cysteine content in MLD in group Z (0.289 ± 0.007 g*100 g-1) was significantly (P ≤ 0.05) higher than in group C (0.277 ± 0.011 g*100 g-1). Another noticeable difference in the statistical level p ≤ 0.05 in favor of zeolite was found in linoleic acid content in MLD with mean values in group Z (0.324 ± 0.016 g*100g-1 FAME) against the group C (0.293 ± 0.009 g* 100 g-1 FAME). Therefore, the addition of zeolite to the rabbit feeding diet possibly increases the proportion of essential linoleic fatty acid and thereby may improve the nutritional value of the meat. Increased cysteine value can lead to a better degradation of heavy metals in meat.
Downloads
Download data is not yet available.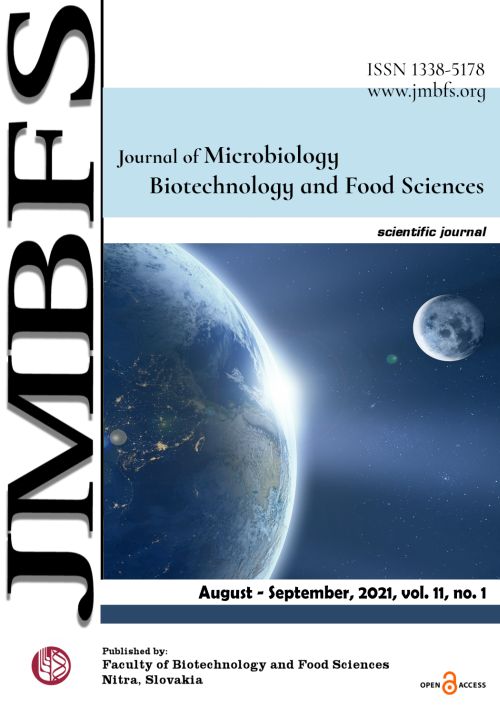 Downloads
How to Cite
Herc, P. ., Bučko, O. ., Tirpák, F. ., Tokárová, K. ., Vizzarri, F. ., Massányi, P. ., & Slanina, T. (2021). EFFECT OF ZEOLITE (CLINOPTILOLITE) ON CHEMICAL PARAMETERS OF RABBIT MEAT. Journal of Microbiology, Biotechnology and Food Sciences, 11(1), e3986. https://doi.org/10.15414/jmbfs.3986
License
Copyright (c) 2021 Tomas Slanina
This work is licensed under a Creative Commons Attribution-NoDerivatives 4.0 International License.
Received 2020-11-20
Accepted 2021-02-24
Online Published 2021-08-01