FREEZE-DRIED, VIABLE, DISPERSED AND STABLE FORMULATION OF THE "LIQUID INTRA-VESICAL IMMUNOTHERAPY BCG MOREAU® FINLAY"
Keywords:
BCG Moreau sub-strain, bacillus Calmette-Guérin (BCG), intra-vesical immunotherapy, anti-tumours products, viability, dispersion - freeze- drying
Abstract
The current study designed to obtain, execute and test a freeze-drying protocol for the preparation and a better storage conservation of the live attenuate Mycobacterium bovis BCG-Moreau-Finlay, fundamental element for the immunotherapy against bladder carcinoma, passed successfully all trials. The new lyophilized formulation also reduces the in vivo toxicity compared to present BCG liquid preparation by means of lowering dose needed for the treatment. The second re-seeding of the Moreau Rio de Janeiro sub-strain of Mycobacterium bovis BCG (pBCG Moreau); was sub-cultured in the Sauton Synthetic Medium (SSMII), previously maintained in Seed Lot Systems and harvested during the logarithmic growth phase. Basic Bacterial Suspension (BBS) was then prepared, homogenized and stabilized by freeze-drying in vehicle A, compare to vehicle B. By means of Thin Layer Chromatography (TLC) was realized the comparative quality control of the (BBS) preparation before and after lyophilisation procedure of the final product. A high (%) colony count measure in Ogawa medium and average survival of 50.4% (Heat stability over the time). Additional values as (0.75 – 0.95 %) were obtained for the ranks of dispersion using Zieln Nielsen and the Dubos Methods. The integrity/vitality oscillated from 67.8 to 68.5 (%) measured by oxygen consumption, the residual humidity indicators from 73 to 74 (%)[BBS] and the accepts organoleptic properties designed all aftermaths concern the in vitro assays required by World Health Organization (WHO) standards for BCG intra-Vesical final product. A freeze-dried "Onco BCG Moreau - Finlay†formulation was successfully produced and has many "in vitro and in vivo test†practical and theoretical advantages when it compared to the current liquid preparation, such as the best preserving BCG biological properties and reducing the dose of product required for treatment.
Downloads
Download data is not yet available.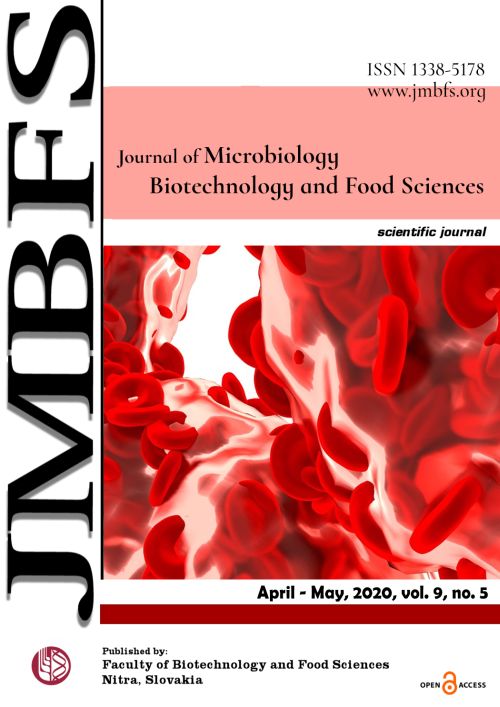 Downloads
How to Cite
Bell, Y. G. ., Isis, . G. H., Hernández, T. . Z., Sarmiento , M. E. G., Domínguez, A. A. ., Gonzalez, E. A., Tamayo, M. C. ., Huergo, C. C. ., Hleba, L., Shariati, M. A. ., Imran, M., Plygun, S. ., Laishevtcev, A. ., & González, V. G. S. . (2021). FREEZE-DRIED, VIABLE, DISPERSED AND STABLE FORMULATION OF THE "LIQUID INTRA-VESICAL IMMUNOTHERAPY BCG MOREAU® FINLAY". Journal of Microbiology, Biotechnology and Food Sciences, 9(5), 1023–1028. https://doi.org/10.15414/jmbfs.2020.9.5.1023-1028
License
Copyright (c) 2020 Ydalis Griñan Bell, Isis García H., Tamara Hernández Z., María Elena Sarmiento GSM, Armando Acosta Domínguez, Elizabeth Aznar Gonzalez, Martha Carralero Tamayo, Concepción Campa Huergo, Lukas Hleba, Mohammad Ali Shariati, Muhammad Imran, Sergey Plygun, Alexy Laishevtcev, V. Gustavo Sierra González
This work is licensed under a Creative Commons Attribution 4.0 International License.
All papers published in the Journal of Microbiology, Biotechnology and Food Sciences  are published under a CC-BY licence (CC-BY 4.0). Published materials can be shared (copy and redistribute the material in any medium or format) and adapted (remix, transform, and build upon the material for any purpose, even commercially) with specifying the author(s).